Ad blocker interference detected!
Wikia is a free-to-use site that makes money from advertising. We have a modified experience for viewers using ad blockers

Wikia is not accessible if you've made further modifications. Remove the custom ad blocker rule(s) and the page will load as expected.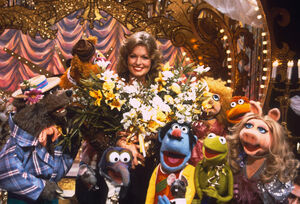 Phyllis hosts the 1st annual Muppet Awards, recognizing the greatest Muppet Show performers. The award, the prestigious "Fred", is actually a bowling trophy. Kermit, who hates awards shows, sits out the show, but Miss Piggy is absolutely determined to win. She's thrilled when she realizes that she appears in both of the sketches nominated for Best Sketch -- "Pigs in Space" and "Vet's Hospital" -- but the category ends in a tie, and no "Fred" is awarded. Piggy's only other chance for an award is as Performer of the Year -- and she's competing against Kermit.
Songs/Sketches
Episode
| Picture | Description |
| --- | --- |
| | Cold Open: Scooter tells Phyllis that he guarantees tonight's show will be exciting and suspensful. When she asks if it's funny, he says that the guarantee has run out. |
| | "The Muppet Show Theme": When Gonzo blows his trumpet, a long, blue, furry arm wearing a boxing gloves punches him in the side of the head. |
| | Kermit explains that tonight's show is dumb, so he's taking the night off. Phyllis George is introduced and welcomes the audience to the first annual Muppet Awards. The curtain pulls back to reveal a lavish set resembling similar entertainment awards shows, behind which the Muppets are anxiously awaiting to see who the winners will be. Sam the Eagle addresses a handful of Muppets and proclaims, "You are losers, all losers!" |
| | Nominated for Best Song of the Year, The Swedish Chef sings a mock-Swedish rendition of "Yes, We Have No Bananas" in a grocery store with the Singing Food. Waldorf didn't understand a word of it, but Statler responds in mock-Swedish. |
| | Backstage, a cauliflower tells Scooter that they learned to sing in Swedish from "some meatball", Beakie states that s/he's been nominated for Best Unexplainable Creature, Sam wonders if they give a humanitarian award, and Kermit expresses his distaste for awards shows. Off-screen, Scooter shouts that they're announcing the first award, so Miss Piggy drops him on the floor. |
| | Fozzie Bear announces that the first Fred Award is for Best Foreign Act. Phyllis scoffs at the name and Fozzie explains that no one could come up with anything better. Asking to inspect a Fred, she's amused to find that it's actually a bowling trophy. She begins to read the six nominations, the first of which are The Flying Zucchini Brothers. Upon hearing their name, they excitedly walk on stage, claim the award, and shuffle out. "I guess they won," Phyllis shrugs. |
| | For the next category, Best Sketch, Pigs in Space performs, nominated for "Pig Alien". Piggy, on the other hand, would rather do "First Mate Piggy Saves the Day", which Link Hogthrob can't remember. To remind him, Piggy reenacts portions of the script, which involve her knocking him out after he becomes hysterical. Captain Blueboar enters the bridge of The Swinetrek who thinks they're doing "Pig Alien". He doesn't remember that one either, so Piggy has to knock out Link again. Dr. Julius Strangepork starts dancing to disco because his favorite sketch is "Strangepork Takes Up Disco". The following chaos ends the sketch. |
| | Transitioning from an awkward end to Pigs in Space, Fozzie moves things along for the Award Show that he claims a certain frog said couldn't be done. From backstage, Kermit yells, "Shouldn't! I say it shouldn't be done!" Fozzie then announces a performance from the second nomination for Best Song. |
| | Phyllis sings "Carbon Paper" with Rowlf the Dog playing a white piano. During the bridge, she tells Rowlf that the song is a little weird. He agrees and says he wanted a song that was very weird, but this was the best he could find. He joins her in singing the rest of the song. |
| | Scooter announces the nominees for Best Performance by an Inanimate Object or a Group of Inanimate Objects. The first two, the Singing Food and the Talking Luggage, join him on stage, surrounding Scooter at the podium. The third nomination is met with a loud gasp, The Dancing Mountains, who don't join them on stage. When they're announced as the winner, "(The Hills Are Alive With the) The Sound of Music" plays over the earthquakes caused by their imminent arrival. In an attempt to avoid a disaster, Kermit rushes to the stage and says that the award will not be presented, "we'll mail it out." |
| | Without reading a list of nominations, Scooter announces that the winner of Funniest Comedy Performance by a Bear is Billy the Bear. Fozzie has already shown up on stage to accept, but he's aghast that he didn't win. Billy accepts the award and bumps into Fozzie on the way out, delivering some jokes from his act. To further rub it in, Billy feeds him an exploding cigar and smashes a pie in Fozzie's face. |
| | In the UK Spot, Louis Kazagger interviews the Flying Zucchini Brothers from the canteen. Biondo says they won because they were the best, and weren't worried at all about their competition, the Nip Von Flippers, the Swahili Stompers, and the Volga Showmen. The other nominees then show up and begin stealing the award from each other, which is finally eaten by Luncheon Counter Monster. |
| | Phyllis introduces Rowlf playing "You and I and George" ("Wait'll you hear this one. You thought the "Carbon Paper" song was strange.") Rowlf performs on a brown piano this time, decorated with a candleabra. It's a simple performance of the third entry up for Best Song, previously performed on the show in episode 101. |
| | Link presents the Stunt of the Year Award to the Falling Alfonzos, who arrive to receive the prize by way of a drop from above, right onto Link's head. Phyllis laughs from backstage and remarks, "See why I asked him to announce it?" |
| | Fearful of another falling Falling Alfonzo, Fozzie introduces Scooter who will sing the nominees for Best Guest Star to the tune of "I Am the Very Model of a Modern Major General". Phyllis reads the winner and is pleased to find that it's her. Statler and Waldorf remark that anyone else would have been dumb to come back. Grasping her trophy, Phyllis breaks the Fred Award, and receives a broom from Beauregard to sweep up the broken pieces. |
| | Beauregard introduces Veterinarian's Hospital as the second nomination for Best Sketch. Dr. Bob starts by practicing his acceptance speech, but tosses away his notes after Janice reminds him they have to perform the sketch first. He learns thier only competition is Pigs in Space, and continues his acceptance speech. |
| | Convinced that she can't lose in the Best Sketch category, because she appears in both of the nominations, Piggy readies herself to accept the award. However, the judges have chosen not to award a Fred in this category, which elicits threats of violence from Miss Piggy. She rescinds her threats when she finds that the next category is Performer of the Year, and she's eligible. |
| | Backstage, Piggy rounds Kermit up to be nearby when she wins the award, but Kermit repeats his disdain for accolades won at awards shows. Piggy's name is read, followed by Kermit, who is surprised by the announcement. His mood shifts when he's named Performer of the Year, and almost gets knocked out by Piggy mid-speech, but he quickly thanks her in his moment of triumph by planting a kiss on her cheek. |
| | Closing out the show, Phyllis and the Muppets sing "There's No Business Like Show Business", joined by Statler and Waldorf in their box, and a host of chickens in the wings (who are joined by a sole green pepper). |
| | The Muppets continue to hum "There's No Business Like Show Business" while Kermit thanks their guest and bids the audience goodnight. Piggy is upset that she didn't get an award, but Kermit asks her to take it easy; the voting was done by a panel of blue ribbon judges. When she sees who they are, Piggy is furious to learn that she wasn't good enough for two rats. |
| | Over the credits, Kermit asks Piggy to hold his award, but she refuses. Waldorf can't believe that the rats were responsible for the show. Statler asks, "Why not? They were also responsible for the bubonic plague. |
Notes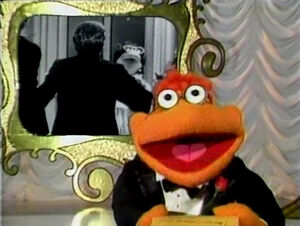 During Scooter's "Best Guest Star" song, he mentions Señor Wences, who wasn't a guest until the next season. The image used to represent him is actually the back of Charles Aznavour from his number, "The Old Fashioned Way."
All the songs nominated had previously appeared in earlier episodes:
Cast
Muppets:
Background Muppets:
Performers
Gallery