Episode 412: Phyllis George
Talk

2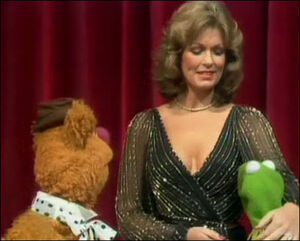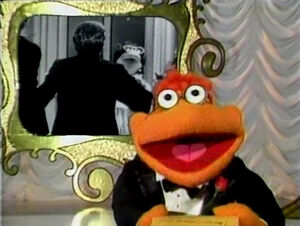 Phyllis hosts the 1st annual Muppet Awards, recognizing the greatest Muppet Show performers. The award, the prestigious "Fred", is actually a bowling trophy. Kermit, who hates awards shows, sits out the show, but Miss Piggy is absolutely determined to win. She's thrilled when she realizes that she appears in both of the sketches nominated for Best Sketch -- "Pigs in Space" and "Vet's Hospital" -- but the category ends in a tie, and no "Fred" is awarded. Piggy's only other chance for an award is as Performer of the Year -- and she's competing against Kermit.
Songs/Sketches
The Swedish Chef sings "Yes, We Have No Bananas" with the Singing Food.
Fozzie helps Phyllis award the Best Foreign Act (which is raided by The Flying Zucchini Brothers).
Phyllis sings "Carbon Paper" with Rowlf at the piano.
Scooter awards the winner of Best Inanimate Object to the Dancing Mountains.
Fozzie loses Funniest Comedy Performance by a Bear to Billy the Bear.
UK Spot: In the canteen, Louis Kazagger interviews The Flying Zucchini Brothers, interrupted by various runners-up stealing the award back and forth, including The Swahili Stompers, The Nippon Flippers, The Volga Shoatman, and an excluded contender who's "young and hungry", Luncheon Counter Monster.
Rowlf plays "You and I and George"
Link Hogthrob presents the Stunt of the Year Award to the Falling Alfonzos.
Scooter sings the nominations for Best Guest Star, a list of the first names of all the previous Muppet Show guest stars, rhymed and set to Gilbert and Sullivan's "I Am the Very Model of a Modern Major-General."
The rat judges decide not to award a Fred for Best Sketch of the Year.
Kermit wins Performer of the Year and the cast joins him in "There's No Business Like Show Business."
Notes
During Scooter's "Best Guest Star" song, he mentions Señor Wences, who wasn't a guest until the next season. The image used to represent him is actually the back of Charles Aznavour from his number, "The Old Fashioned Way."
Every song that appeared in this episode had previously had a performance in a previous episode:
Cast
Muppets:

Background Muppets:
Performers
Gallery