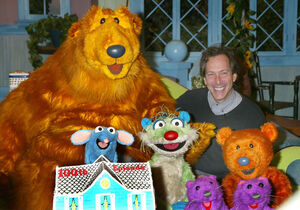 When Bear plays hide-and-seek with Tutter and Ojo, Ojo puts an abrupt end to the game when she calls for the two of them. It turns out that she's discovered something interesting --- some sort of old stones or bricks. Bear says that it looks like the remains of an old house and so Tutter and Ojo decide once again to be detectives and figure out what the deal with it is. Bear takes them to the library where they find a picture of the house as it once was in a book titled Houses of Woodland Valley. Otto and Etta recognize the name of the home's owner --- Hephaestus as being the name of Jeremiah's great-grandfather. So Bear, Ojo and Tutter head to the General Store, where Jeremiah has a quite a story for them.
Songs
Notes
Ad blocker interference detected!
Wikia is a free-to-use site that makes money from advertising. We have a modified experience for viewers using ad blockers

Wikia is not accessible if you've made further modifications. Remove the custom ad blocker rule(s) and the page will load as expected.