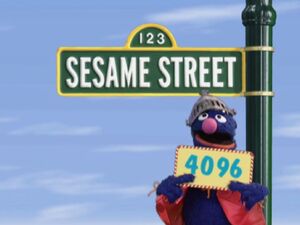 Picture
Segment
Description

COLD OPEN
Healthy Moment: Rosita comments that there is great food around the world. She also said how eating food together with family is a great way also. Together with her family, they are getting ready to eat Chinese food.

SCENE
Luis and Rosita welcome the viewer to Sesame Street. Rosita tell us that she has got a package from her abuela in Mexico. Luis helps opening the package up.




SCENE, cont'd
Inside the package was a bead bracelet, a letter, and a photo of Rosita's abuela in the marketplace. Looking at the photo has made Rosita homesick for Mexico to see her abuela.




SCENE, cont'd

At that moment, Big Bird arrives and sees Rosita sad as she went off to look at the photo of her abuela. He asked Luis what is wrong with Rosita and Luis explained that she missed Mexico and her abuela and she wished that she can see them. Big Bird suggested that they bring stuff from Mexico to Rosita on Sesame Street. However, Big Bird doesn't know much about Mexico.




SCENE, cont'd
At that moment, Grover arrives in a mariachi outfit to sing about his favorite country, Mexico, and gives some facts about what stuff they have in Mexico. Three monsters provide back up singing and translate Grover's facts to Spanish ("Mexico Is a Country"). With so much information about Mexico, Big Bird knows how to bring Mexico to Rosita.

SCENE, cont'd
In the courtyard, Rosita is looking at the photo and missed Mexico. She imagines that she is there and can smell the fajitas. She then realized that she actually smells the fajitas for real.

SCENE, cont'd
Big Bird calls Rosita to come to the courtyard for a surprise. When Rosita arrives, she saw decoration, a piñata, and Mexican food that Miles placed on the table. Big Bird explains to Rosita that they are bringing Mexico to her. Rosita is happy that she gives him and Miles a hug.




SCENE, cont'd
With the courtyard looking like Mexico, Rosita feels like home and can almost hear the Mexico music. She suddenly hears music playing and it was Luis singing the traditional Mexico song, "Cielito Lindo," while playing the guitar. Everyone joins in and sing along.




SCENE, cont'd
Rosita is truly surprised and grateful when she realizes what everyone has done for her. To everyone's surprise, Rosita's abuela shows up too. She missed Rosita so much that she had to fly on Monster Mexico airlines to see her. To her abuela's amazement, she said that Sesame Street looks like Mexico because of the decorations, which impressed Big Bird. Rosita is very happy that her abuela came and she and her friends all continue the fiesta together.

Animation
A kid paints a picture for his abuelita in Mexico.

Film
A girl narrates a film of how pan dulce, Mexican bread, is made.
(EKA: Episode 3076)

Muppets / Celebrity
Angel Corella dances the Ballet Alphabet, while Telly, Zoe and Elmo name the letters. (edited)
(EKA: Episode 3785)

Muppets
The Letter of the Day: B
Cookie Monster and his mother talk about the letter B. Cookie's mother tries to get her son not to eat it, but gives into temptation. ("What the hey? KOWABUNGA!")
(First: Episode 4025)

Film
Jane Tuesday eats a tasty blueberry in the Case of the Letter B.

Animation
B / b candles.
(EKA: Episode 3111)

Muppets
Journey to Ernie: The Letter B Museum
Ernie hides in a museum where all the exhibits have names beginning with B. (Bob makes a cameo appearance in this one--not as an exhibit, but as a visitor on his way home.)




Muppets
Muppet & Kid Moments: Joey shows off his family picture to Ernie. Joey's family comes out and they take a picture with Ernie.
(First: Episode 3915)




Muppets
Global Grover:
Grover and his burro, Roberto, return from Mexico with a lump of clay. In his film, Saul and his family make clay pottery. Afterwards Grover completes his sculpture, which he calls "Potato." Roberto has created a more interesting composition, however.
(First: Episode 4081)

Animation
A girl unfolds a map and uses it to describe her trip to Mexico, stopping in Texas along the way.
(EKA: Episode 2749)




Film
The Number of the Day:
A remake of the Number Song Series brings forth 3.

Song
An animated farmer and woodworker sings "Three is My Favorite Number."

Cartoon
In Egypt, three lemons make lemonade.
(EKA: Episode 3285)

Muppets
The Spanish Word of the Day: familia
Rosita show us the Spanish word of the day, Familia, and introduce us to her family. Then they all hug each other because they are a family that loves to hug.
(First: Episode 4078)

Song
"Doing the Family Thing"
(EKA: Episode 3180)

Muppets
Elmo's World: Skin

Insert
The Adventures of Trash Gordon
Chapter 538
On Planet Triangle, Trash finds himself taunted by its residents until playing his triangle.
(First: Episode 4089)
Ad blocker interference detected!
Wikia is a free-to-use site that makes money from advertising. We have a modified experience for viewers using ad blockers

Wikia is not accessible if you've made further modifications. Remove the custom ad blocker rule(s) and the page will load as expected.