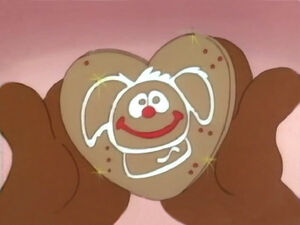 Nanny makes Valentine's Day cookies for everybody, but loses Rowlf's cookie. The other Babies decide to make it up to Rowlf by giving him a Valentine's Day surprise, but after constantly having to hide the surprise from Rowlf, they're afraid that they have made him sadder. However, it turns out that Rowlf was writing a special surprise Valentine's Day song for them. After that, Nanny finds Rowlf's cookie, which she had mistakenly left behind.
Songs
Notes
Video releases
Ad blocker interference detected!
Wikia is a free-to-use site that makes money from advertising. We have a modified experience for viewers using ad blockers

Wikia is not accessible if you've made further modifications. Remove the custom ad blocker rule(s) and the page will load as expected.