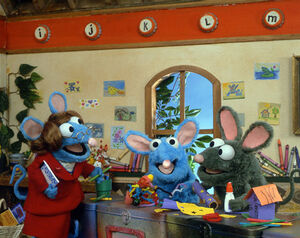 It's finally Tutter's very first day at Mouse School. He's really excited and happily shows off his bookbag and other school supplies to the other kids in the Big Blue House. Meanwhile, Bear and Doc Hogg share a cry over how much he's growing up. But when it comes time to go to school, Tutter is scared that he won't fit in. Bear agrees to accompany him and to wait outside the school, until he's comfortable with being there without him.
Songs
First Time for Everything
Ad blocker interference detected!
Wikia is a free-to-use site that makes money from advertising. We have a modified experience for viewers using ad blockers

Wikia is not accessible if you've made further modifications. Remove the custom ad blocker rule(s) and the page will load as expected.