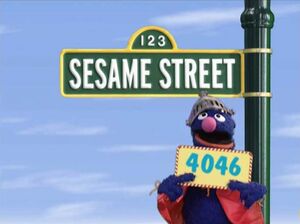 Picture
Segment
Description




SCENE 1
Alan and Bob note that there's "Something in the Air" today that makes them want to sing! They're joined by Miles, Gabi, Big Bird, Elmo and a chorus of sheep. Afterward, everyone goes back to their business and Elmo goes to look for Rosita, whom he's having a playdate with.




SCENE 1 cont'd
As he walks down the block looking for Rosita, Elmo sings "Somebody Come and Play." Just then, Rosita arrives on the street (humming "Sing" to herself), but can't seem to find Elmo. Gabi and Miles inform her that she just missed him and point to the direction he went.




SCENE 1 cont'd
Elmo goes into Big Bird's nest looking for Rosita. She passes by just as he shuts the door. When he emerges, he asks the singing sheep about Rosita's whereabouts, but they have no answer. Just as he leaves, Rosita finds out from the sheep that she just missed him again. She proceeds to sing "I'm Gonna Get to You," with back-up from the sheep.




SCENE 1 cont'd
Believing that the other isn't coming to the playdate, the two monsters decide to give up. They both perform a sorrowful reprise of "Somebody Come and Play," unaware that they're right next to each other. They then realize each other's presence and they happily reunite with another verse of "Somebody Come and Play," leading to a big finale of "Something in the Air."

Film
Kids sing the songs they know.
(First: Episode 3920)




Muppets
Monster Clubhouse
The monsters dance the "Turn Around, Turn Around, Turn Around and Fall Down Dance." Today's Snacktime is Milk, and a man arrives looking for a kazoo club meeting. The Furry Feeling of the Day is Sad. They get chased by an elephant. A letter asks how monsters brush their fur..
(First: Episode 3941)

Muppets
The Number of The Day: 2
Two tubas in tutus, tapdancing, show up after The Count learns that the number of the day is 2.
(First: Episode 3992)

Film
Holy cow, it's number 2
(First: Episode 3193)

Cartoon
Train #2
(EKA: Episode 0536)

SCENE 2
Elmo and Rosita are still talking about how glad they are that they found each other. They then sing "Two is You and Me," and are joined by Miles and Gabi.

Film
A girl uses an instant camera to take pictures of her friends, who demonstrate several emotions.
(EKA: Episode 3662)

Muppets
Journey to Ernie:
Jungle
(First: Episode 4033)

Muppets
Ernie makes a few animal sounds and wants Bert to guess what sounds he is making. Bert just want to read his book and keeps guessing correctly by accident. Eventually, Ernie decides to agree to stop playing the game and leaves, but then a lion comes in and roars. Bert isn't paying attention and thinks that Ernie is making the animal sounds even though he promised not to.

Muppets
Hero Guy
Hero Guy goes on a heroic musical adventure with Baby Bear. Then Baby Bear plays the music repeating game with Telly.
(First: Episode 3943)

Muppets / Celebrity
Angel Corella dances the Ballet Alphabet, while Telly, Zoe and Elmo name the letters. (edited)
(EKA: Episode 3785)

Muppets
The Letter of the Day: O, pt. 1
Cookie Monster thinks he can avoid eating the Letter O Cookie by mailing it away in a box.
(First: Episode 3983)

Cartoon
A woman sings the "O" sound in a brief opera.
(EKA: Episode 3323)

Muppets
The Letter of the Day: O, pt. 2
Grover the mail carrier picks up the package, and delivers it right back to Cookie. Cookie eats the Letter O cookie.
(First: Episode 3983)

Film
A ONE WAY sign switches sides. (Maria voiceover)
(EKA: Episode 3699)

Muppets
The Spanish Word of the Day
An artist draws a cara (face) as Grover tries to guess the word's meaning.
This segment was cut from the 2016 DVD release.

Muppets
Elmo's World: Music
(First: Episode 3824)

SCENE 3
A singing O and 2 help Big Bird close out the episode.
Ad blocker interference detected!
Wikia is a free-to-use site that makes money from advertising. We have a modified experience for viewers using ad blockers

Wikia is not accessible if you've made further modifications. Remove the custom ad blocker rule(s) and the page will load as expected.