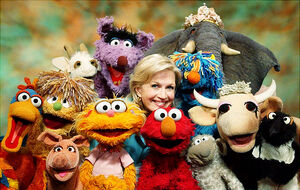 Picture
Segment
Description

SCENE 1

Cookie Monster wins an enormous wagonload of cookies in a poetry contest, but then discovers that he can't eat them because he has the Cookie Flu—he sneezes every time he thinks about cookies. All his friends try to help cure him by distracting him from thinking about cookies.

Film

Jodi goes to the doctor for a check-up.
(EKA: Episode 3526)

Celebrity

Elmo and Diane Sawyer sing a song about adding one and two. Zoe wants to sing the song too, so they change it. Soon enough, a large group of friends wants to sing with them.

Muppets

The Number of The Day: 1
After practicing a few times, The Count hits an organ key, and the number is one. One elephant appears.
(First: Episode 4000)

Film

Wegman dogs: Batty and Crooky stack wood blocks to make the number 1. (new graphics)
Original version: (EKA: Episode 4000)

Cartoon

Number Guy sings "How Many Birds Can Fit on This Wire?" One bird provides the answer.
(EKA: Episode 3338)

SCENE 2

Elmo and Zoe try to find a word that rhymes with fish to finish writing their poem similar to Cookie Monster's poem for cookies.

Cartoon

Rhyme Time: Frog and Hog went for a jog. Quail hops and meets a Snail.
Artist: Karen Aqua

Muppets

Journey To Ernie: Barnyard
Big Bird looks for Ernie at a barnyard by asking questions to the animals there.
(First: Episode 4032)

Muppets

Ernie and Bert: Bert (played by Frank Oz) tells Ernie that the perfect way to start the day is with a big bowl of oatmeal. But Ernie disagrees, saying that the "perfect" way to start the day is with a frog, who can count to 100 by tens. The frog ends up "knee-deep" in Bert's oatmeal.

Muppets

Hero Guy: Hero Guy grows big for his big heroic adventure. When Hero Guy is too big, he shrinks small for his wee-little adventure.
(EKA: Episode 3942)

Muppets

The Letter of The Day: C
Cookie Monster asks The Amazing Mumford to make the cookie with the letter of the day disappear so that he can't eat it. Mumford tries and fails to make the cookie disappear, but Cookie Monster figures out a way to do it...
(First: Episode 4004)

Film

Girls do a hand-clap game about friends whose names start with C.
(EKA: Episode 3324)

Cartoon

A car drives by the water.
(EKA: Episode 3422)

Muppets

The Spanish Word of the Day: Casa
(First: Episode 3991)

Muppets

Elmo's World: Sleep
(First: Episode 3983)

SCENE 3

Big Bird tries to announce the sponsors but they keep hiding on him. He eventually finds them and ends the show.
Ad blocker interference detected!
Wikia is a free-to-use site that makes money from advertising. We have a modified experience for viewers using ad blockers

Wikia is not accessible if you've made further modifications. Remove the custom ad blocker rule(s) and the page will load as expected.