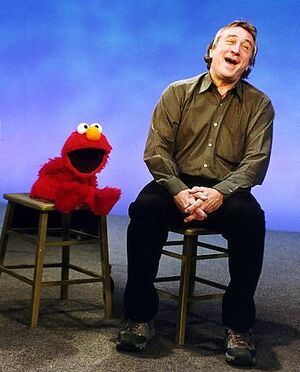 Zoe convinces Telly and Baby Bear that tea parties and ballet are not just for girls (especially when the party is a "letter T party" and the ballet includes a dancing elephant).
Segments
Song: "Some Things are Big"
Robert De Niro tells Elmo about acting, and demonstrates by acting like a dog, a head of cabbage, and Elmo. (First: Episode 3978)
Number of the Day: The Count's organ vanishes, leaving him with zero organs. He then counts zero elephants, zero yo-yos, and zero gefilte fish. (First: Episode 3996)
A breakdancer dances inside a zero, then disappears, leaving zero dancers.
Cartoon: A little girl tells her friend she saw zero elephants at the zoo. (EKA: Episode 3705)
Cartoon/Song: "Ooh What a Fabulous Party" (First: Episode 3006)
Prairie Dawn is having a tea party, but Cookie Monster doesn't have an invitation.
Song: "Everybody Eats" (EKA: Episode 2855)
Journey to Ernie: Jungle (First: Episode 4034)
Ernie and Bert sing "Rub Your Tummy."
Hero Guy: Hero Guy and Baby Bear sail a ship. (First: Episode 3955)
The Letter of the Day: Cookie Monster makes a hat out of a letter T (First: Episode 4023)
Cartoon: Fish make a capital "T" and a lowercase "t" (EKA: Episode 3540)
A letter T on the beach (EKA: Episode 3540)
Cartoon: A wind-up panda is a "toy" (EKA: Episode 3067)
The Spanish Word of the Day: Professor Grover explains how to say "boy" and "girl" in Spanish -- "niño" and "niña"
The elephant gives out elephant kisses, then joins Telly, Baby Bear and the letter T for another T party.