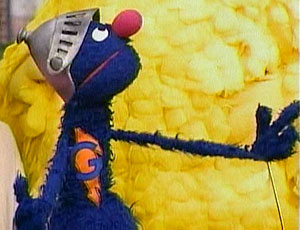 When Super Grover's cape rips, he thinks he can't fly again.
While he waits for the new cape Maria ordered, Big Bird, Zoe and some kids help him try some alternatives so that he might fly again. These include Zoe's bath towel with a hair pin, a face washer as a cape and being shot from a cannon.
Once his new cape comes, he shouts "O frabjous day!" and throws the old one away. But when Oscar picks up the discarded cape, he discovers that he can use it to fly around his trash can.
Segments