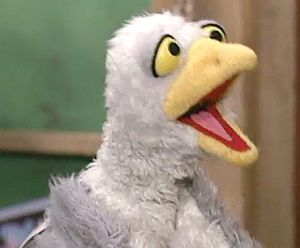 Big Bird's pen-pal, Gulliver the seagull, comes to visit. Gulliver is initially uncomfortable and somewhat frightened to find that Sesame Street includes people, monsters, and other beings, since he's used to only playing with other birds. He refuses to play with Snuffy, until Big Bird explains that friends can be different. Gulliver warms up to the concept, after a riveting round of saying the alphabet, but is still afraid to meet Big Bird's other friends. The cast sings "How Do You Do?" to encourage him, and Gulliver finally understands the value of multiculturalism.
Segments
Ad blocker interference detected!
Wikia is a free-to-use site that makes money from advertising. We have a modified experience for viewers using ad blockers

Wikia is not accessible if you've made further modifications. Remove the custom ad blocker rule(s) and the page will load as expected.