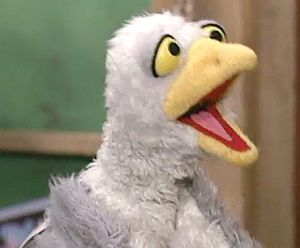 Picture
Segment
Description

SCENE 1

At the Mail It Shop, Alan helps Big Bird read a letter from his pen-pal, Gulliver, who will be coming to Sesame Street for a visit. Big Bird isn't sure what to do when they meet, so Alan sings some musical advice ("How Do You Do?").

Celebrity

When the monsters argue over which one of them will sing The Alphabet Song, the Secretary-General of the United Nations Kofi Annan arrives to resolve the dispute.
(First: Episode 3991)

Muppets

The Number of the Day: 7
Seven dancing chickens show up for the number of the day.
(First: Episode 3990)

Cartoon

The Alligator King
Artist: Bud Luckey
(EKA: Episode 0812)

Film

Milo Counting: 7
(EKA: Episode 3595)

SCENE 2

Gulliver and Big Bird meet at his nest. Big Bird then receives a phone call from Snuffy, who wants to meet Gulliver too. Big Bird tells them to meet up later, as he and Gulliver plan on touring Sesame Street first. They spot Rosita giving Baby Bear a Spanish lesson and Gulliver becomes surprised - they're not birds. He requests they go somewhere else.

SCENE 2 cont'd

The two birds make their way to the arbor, where Miles and Gabi are playing basketball. Gulliver refuses to meet them either, saying he prefers playing basketball with his bird team back home.

SCENE 2 cont'd

Big Bird continues to give Gulliver a tour, as he ducks out of sight of every human and monster. Big Bird recommends they get some birdseed milkshakes, but Gulliver's thirst retreats when he sees Alan is serving. Snuffy finally arrives and Gulliver is shocked to see Big Bird's best friend isn't a bird at all. He tells Snuffy that he doesn't want to play together because they're different species and Snuffy becomes sad. Big Bird tells Gulliver that he likes playing with Snuffy, even if he's not a bird. Gulliver learns that Snuffy likes saying the alphabet, just like he does. They all say the alphabet together and Gulliver apologizes for how he's acted. The other street residents appear and Gulliver becomes a little overwhelmed. They teach him can make new friends the same way he does with birds, by singing "How Do You Do?"

Film

Kids talk about saying hello and making friends.
(First: Episode 3921)




Muppets

Journey To Ernie
Big Bird sets off on a Journey To Ernie. First, Big Bird looks for Ernie's box by repeating a clapping pattern.

Film

A group of girls do a playground cheer ("Ooh I'm so happy!").
(EKA: Episode 3056)

Muppets

Journey To Ernie
Big Bird looks for Ernie's box in the chicken coop.

Animation

"There's a Bird on Me" (remake)

Muppets

Journey To Ernie
Big Bird asks the dinosaur to help him find Ernie's box. We found him!

Muppets

Ernie and Bert sing "But I Like You."
(EKA: Episode 1952)
Come back tomorrow for another Journey To Ernie.

Muppets

Hero Guy
Hero Guy hits a fly ball, but will Hero Guy be able to catch it?
(First: Episode 3984)

Muppets

The Letter of the Day: N
(First: Episode 4005)

Animation

A letter N pops out of a mailbox envelope.

Muppets

The Letter of the Day (cont'd): Super Grover helps Cookie Monster refrain from eating the letter "N," but is ultimately unsuccessful.
(First: Episode 4005)

Film

Kids form a letter N from overhead.

Muppets

Spanish Word of the Day: gato
A cow tries to help Rosita by illustrating gato, but she isn't a cat. Suddenly Little Murray Sparkles comes by and Rosita replies that this is what gato is.
(First: Episode 3985)

Muppets

Elmo's World: Families
(First: Episode 3975)

SCENE 3

Big Bird, Snuffy and Gulliver announce the sponsors together.
Ad blocker interference detected!
Wikia is a free-to-use site that makes money from advertising. We have a modified experience for viewers using ad blockers

Wikia is not accessible if you've made further modifications. Remove the custom ad blocker rule(s) and the page will load as expected.