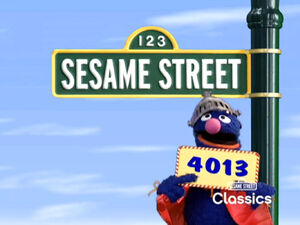 This episode guide has been compiled from incomplete video material.
Picture
Segment
Description

Muppets / Celebrity
John Leguizamo portrays Captain Vegetable as a super vegetable hero. Garbed in a veggie-themed outfit, he and Elmo stage an intervention for candy addict Sandy.

Muppets
Monster Clubhouse
Today's Furry Feeling of the Day is Sad, and the monsters get chased by an elephant. At Mail Time, the monster reads a letter asking how monsters brush their fur.
(First: Episode 3962)

Muppets
The Number of The Day: 1
After practicing a few times, The Count hits an organ key, and the number is one. One elephant appears.
(First: Episode 4000)

Film
Wegman dogs: Batty and Crooky stack wood blocks to make the number 1. (new graphics)
Original version: (First: Episode 4000)
This segment was cut in the HBO version.

Animation
A group of 1s chant, "We're the number 1!"
(EKA: Episode 3238)

SCENE 1

When Snuffy's grandma visits Sesame Street, everyone, including Big Bird, Elmo, Baby Bear, and Cookie Monster draws a picture to welcome her.

Film
A girl uses an instant camera to take pictures of her friends, who demonstrate several emotions.
(EKA: Episode 3662)




Muppets
Journey To Ernie
Big Bird sets off on a Journey To Ernie. First, Big Bird looks for Ernie's box by singing Old MacDonald Had a Farm with the Three Little Pigs.

Animation
An animation of leaves in nature.

Muppets
Journey To Ernie
Big Bird looks for Ernie's box with the Martians' help.

Film

Interpretive dancing.
(EKA: Episode 3980)

Muppets
Journey To Ernie
Big Bird looks for Ernie's box across the tightrope. We found him!

Muppets
Ernie's Show and Tell:
Devon shows Ernie his family picture that he made using popsicle sticks.
The opening introduction is cut
Come back tomorrow for another Journey To Ernie.

Muppets
The Letter of the Day: E
Cookie Monster tries giving the Letter E Cookie to a lion, tiger and bear to protect it from him. However, they want to Eat it, so Cookie protects it from them by eating it himself.
(First: Episode 4000)

Animation
School supplies make the letter E.
(EKA: Episode 3092)

Film
Jaws spoof presenting the letter E.
(EKA: Episode 3300)

Muppets
The Spanish Word of the Day: leche
Rosita drinks the word leche, the Spanish word for "milk."
(First: Episode 3988)
This segment was replaced by part one of Get Your Body Busy in the HBO version.

Muppets
Elmo's World: Drawing
(First: Episode 3859)

SCENE 2

As Snuffy's grandma enjoys the pictures everyone made for her, Big Bird announces the sponsors. Then he, Snuffy, and Snuffy's grandma says good bye.
Ad blocker interference detected!
Wikia is a free-to-use site that makes money from advertising. We have a modified experience for viewers using ad blockers

Wikia is not accessible if you've made further modifications. Remove the custom ad blocker rule(s) and the page will load as expected.