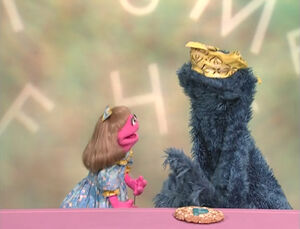 Big Bird is really excited about National Bird Day. He explains to Gordon that it is celebrated by people saying "Happy Bird Day!" and birds gather to sing and dance and have a parade together. But Big Bird doesn't see any birds on the street. Big Bird teaches Gordon the National Bird Day song. Big Bird is discouraged at the lack of birds, and someone hears his cry for help ... it's Super Grover! Yay! Big Bird suggest that Super Grover pretend to be a bird so they can dance the National Bird Dance together. A dancing cow joins them. Big Bird then runs into Snuffy and whines about how he can't have a Bird Parade all by himself. Snuffy gathers a bunch of kids and they all pretend to be birds for the purposes of parading. Big Bird is still a bit dismayed, so Snuffy suggests trying bird calls to summon the birds. Suddenly the street fills with penguins and chickens and other birds, all of whom inform him that National Bird Day is not that day, but the next. However, they agree to start the festivities early with Big Bird.
Segments
Ad blocker interference detected!
Wikia is a free-to-use site that makes money from advertising. We have a modified experience for viewers using ad blockers

Wikia is not accessible if you've made further modifications. Remove the custom ad blocker rule(s) and the page will load as expected.