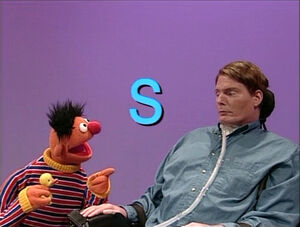 Rosita, Zoe, and Lulu are the Three Amigas. Lulu runs home to get a special game for them to play, and Zoe and Rosita need someone else to play with while she's gone, so they can be a group of three. They get Baby Bear to form the Three Amigos with them. The girls decide they should all play dolls, but Baby Bear finds it too girly for him. Baby Bear asks Gina to intervene, but Gina (holding Hannah) points out that mommies are not the only ones to take care of babies. Baby Bear remembers Papa Bear taking care of him, and agrees to play. They feed the baby dolls and put them to sleep, and the girls then suggest that they all dance ballet. Baby Bear once again protests that ballet is a girl thing, and Baby Bear asks Miles about it. Miles tells him that boys do dance ballet, and they remember Jock Soto once dancing on Sesame Street. Baby Bear relents, and the Three Amigos dance together. Lulu returns with a football! The girls agree that they all love playing football. But they realize that now there are four of them, not three. Baby Bear sadly offers to go draw, but the girls don't want to leave him out. They decide they've done enough stuff in threes that day, and form the Four Amigos.
Segments
Ad blocker interference detected!
Wikia is a free-to-use site that makes money from advertising. We have a modified experience for viewers using ad blockers

Wikia is not accessible if you've made further modifications. Remove the custom ad blocker rule(s) and the page will load as expected.