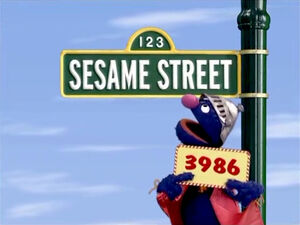 Picture
Segment
Description




SCENE 1
Big Bird opens with a rock joke, and the duck likes it. Big Bird wonders if the rock is alive, but Gordon is busy brushing his teeth and can't explain.




SCENE 1,
cont'd
Big Bird sings, "Is It Alive?," concerning the rock, Slimey, and a hat.




Muppets
Monster Clubhouse
The monsters read the previous meeting's minutes and dance the Honk Your Nose, Touch Your Toes, Spin Around And Strike A Pose Dance. After naptime, the Snack of the Day is a huge salami sandwich. A Lavender Anything Muppet, voiced by Jerry Nelson, arrives looking for the Club for People Who Like To Pretend They're Seagulls.
(First: Episode 3955)

Muppets
The Number of The Day: 13
Thirteen dancing vegetables show up after learning that the number of the day is 13.

Cartoon
Alien parents tuck their child in at night, and he counts 13 spaceships.
Artist: Bill Davis
(EKA: Episode 3729)

Film
Computer #13
(First: Episode 3936)




SCENE 2
Big Bird finds a bird (Carmen Osbahr) that keeps saying "Paraguay." He shows it to Snuffy, who suggests it might mean "I'm sick."

SCENE 2,
cont'd
Gina says the bird is healthy, but doesn't have time during work to talk to Big Bird. Alan says that Paraguay is a country, and takes them to the Mail It Shop to use the Internet.

SCENE 2,
cont'd
At the Mail It Shop, Maria talks to the bird in Spanish, and learns her name is Fatima, she's from Paraguay, and she is lost. Maria finds a web site for Lost Birds of Paraguay, and sends an e-mail. Fatima spends the night at Big Bird's nest.

SCENE 2,
cont'd
The morning after, Fatima's parents show up with Maria to reclaim her. Big Bird discovers he can still use e-mail to communicate with Fatima.

Film
Kids talk about meeting friends and saying Hello.
(First: Episode 3921)




Muppets
Journey To Ernie
Big Bird sets off on a Journey To Ernie. First, Big Bird looks for Ernie's box with the Martian's help.

Muppets / Celebrity
Gloria Estefan sings "You Say Hola."
(First: Episode 3846)

Muppets
Journey To Ernie
Big Bird looks for Ernie's box in the chicken coop.

Film
A cartoon shows a few Spanish words - which are also English words.
Artist: Fred Garbers
(EKA: Episode 3087)

Muppets
Journey To Ernie
Big Bird tries to catch Ernie's box using the penguins' pattern. We found him!

Muppets
Ernie & Bert: Bert teaches his pigeon, Bernice, how to play checkers. Ernie thinks it's amazing that a pigeon can play checkers, but Bert thinks it is no big deal, because Bernice has only beaten Bert in two out of ten games.
(EKA: Episode 1227)
Come back tomorrow for another Journey to Ernie.

Muppets
The Letter of the Day: Z, part 1
Cookie Monster stops himself from eating the Letter Z Cookie, for now.

Cartoon
The Letter Z in various typefaces.
(EKA: Episode 2855)

Muppets
The Letter of the Day: Z, part 2
Cookie builds a Great Wall of Cookie to separate himself from the Letter Z Cookie.

Film
Kids make a giant Letter Z.
(EKA: Episode 3974)

Muppets
The Letter of the Day: Z, part 3
Cookie busts through the brick wall and eats the Letter Z Cookie.

Muppets
Spanish Word of the Day: perro
A bunch of dogs pounce Grover to illustrate the word perro.

Muppets
Elmo's World: Sleep
(First: Episode 3983)

SCENE 3
Big Bird reads the sponsors, and encounters a bird who says nothing but "Sheboygan."
Ad blocker interference detected!
Wikia is a free-to-use site that makes money from advertising. We have a modified experience for viewers using ad blockers

Wikia is not accessible if you've made further modifications. Remove the custom ad blocker rule(s) and the page will load as expected.