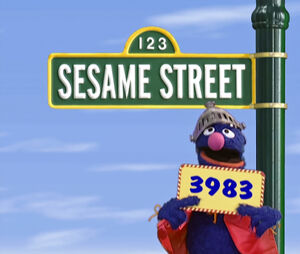 Picture
Segment
Description

Celebrity
Ray Romano can't describe 'frustrated' because Grover thinks he wants to talk about pineapples, head coverings or cheese balls.

Muppets
Monster Clubhouse
Today's Furry Feeling of the Day is Surprised, and a duck arrives to play a flapping dance.

Muppets
The Number of The Day: 19
A Muppet 19 shows up after learning that the number of the day is 19.

Cartoon
Rap #19
(EKA: Episode 2560)

Film
Kids paint a huge mural about the number 19.
(EKA: Episode 3775)




SCENE 1
Rosita, Lulu and Zoe, as The Three Monster Girls Who Love To Sing, sing Sing. Telly, your Monster Music reporter, reports on the three of them.




SCENE 1, cont'd
In a flashback segment, Rosita and Zoe encounter Miles and Gabi singing and dancing "A New Way To Walk." The four of them sing "Goodbye Fly."

SCENE 1, cont'd
Lulu joins Rosita and Zoe. As Gordon walks by, Telly reports on the three and, as every time he's on the scene, freezes everybody in the background.

SCENE 1, cont'd
At Hooper's they become the Three Monster Girls Who Love To Sing And Try New Foods.

SCENE 1, cont'd
They begin to argue over which song to sing, but Miles and Gabi help. They sing "Sing". Telly, who's annoyed from reporting, is allowed to join the group.

Film
A trip to an African dance school.
(EKA: Episode 3266)




Muppets
Journey To Ernie
Big Bird sets off on a Journey To Ernie. First, Big Bird looks for Ernie's box with the Martian's help.

Cartoon
Birds on musical notes play "Frère Jacques" and colorize the environment.

Muppets
Journey To Ernie
Big Bird looks for Ernie's box across the tightrope. We found him!

Muppets
Ernie and Elmo sing "Sing After Me." Come back tomorrow for another Journey To Ernie.
(First: Episode 3802)

Muppets
The Letter of the Day: O, pt. 1
Cookie Monster thinks he can avoid eating the Letter O Cookie by mailing it away in a box.

Cartoon
A lady receives a letter O in the mail, which promptly rolls around her living room.
Artist: ArtistMike
(EKA: Episode 3348)

Muppets
The Letter of the Day: O, pt. 2
Grover the mail carrier picks up the package, and delivers it right back to Cookie. Cookie eats the Letter O cookie.

Animation
Fans reveal the letter O.
(EKA: Episode 3021)

Muppets
Spanish Word of the Day: flor
Maria smells different flowers, including Stinky the Stinkweed.

Muppets
Elmo's World: Sleep

SCENE 2
Big Bird announces the sponsors, while the group is still singing "Sing."
Notes
This is the only episode where Lulu wears red glasses.
Ad blocker interference detected!
Wikia is a free-to-use site that makes money from advertising. We have a modified experience for viewers using ad blockers

Wikia is not accessible if you've made further modifications. Remove the custom ad blocker rule(s) and the page will load as expected.