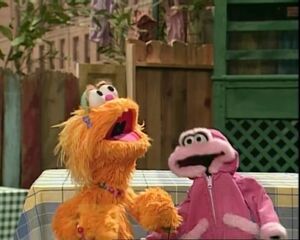 This episode guide has been compiled from incomplete video material.
Picture
Segment
Description

SCENE 1
Zoe looks for someone to play with; Lulu has a playdate with Cookie Monster and Big Bird is meeting a tennis pro. Zoe recalls when she made a wish to bring her jacket to life and calls upon the Jacket Fairy. He brings her jacket to life again and reminds her that only she and the viewer will be able to experience her sentience. He poofs off and Jacket and Zoe hug.

Animation
The word "LOVE" in various situations.
(EKA: Episode 3569)

Muppets / Celebrity
Big Bird and tennis star Michael Chang play tennis together and tie their shoes.
(First: Episode 3145)

Cartoon
Martin P. Robinson narrates a cartoon about a green violinist.

Animation
The Letter Z in various typefaces.
(EKA: Episode 2855)

Film
Kids make a giant Letter Z.

Animation
Z / z Gregorian chant
(EKA: Episode 3332)

SCENE 2
Zoe plays hide-and-seek with Jacket, whose inexperience with the game causes her to stand behind Zoe the entire time.

Cartoon
A shy girl wants to join a group bouncing a ball. (audible dialogue)
Artist: Joanna Priestley
(EKA: Episode 2849)

Muppets / Film
Elmo introduces the viewer to his imaginary friend, Shannon. He then presents a film of kids talking about their imaginary friends.

Cartoon
The jungle creatures dance and form a 20.
Artist: Karen Aqua
(EKA: Episode 3835)

Animation
Twenty bears in 20 chairs.

Cartoon
Number creatures 20
(EKA: Episode 2687)

SCENE 3
Zoe looks for jacket through Hooper's Store and gets surprised when she finds it behind her. Jacket starts to imitate Zoe and the two perform "Sing After Me." Big Bird comes by and comments that Zoe has a strong imagination.

Animation
Portraits of kids display the alphabet.
Artist: Lisa Crafts
(EKA: Episode 3203)

SCENE 4
Zoe and Jacket show near and far, but Jacket isn't used to being apart from Zoe for so long. They both choose to become far from the viewer.

Film
Kids demonstrate near and far with soccer balls.
(EKA: Episode 3606)

Animation
Ten masks are counted.

Film
"Jack-a-Nory" with Wegman's dogs.
(EKA: Episode 3615)

Muppets
Ernie and Bert sing "But I Like You."
(EKA: Episode 1952)

Cartoon
Suzie Kabloozie: Judge #20
(First: Episode 3858)

Film
Growing Numbers #20
(EKA: Episode 3038)

SCENE 5
A cold wind starts blowing through the street. Zoe wishes she could keep playing with Jacket, who insists she be worn again. Zoe makes a wish to the Jacket Fairy to return Jacket to normal.




Muppets
Monster Clubhouse
The monsters talk about the last meeting's penguins, dance the "Turkey Dance," the Snacktime is Bananas, and a man arrives looking for the Hat Wearers of the Known Universe club. A penguin subs for The Elephant, and the monsters sing The Alphabet Song in Monster and English language.

Cartoon
A television reveals many Z words.
(EKA: Episode 3699)

Muppets
Elmo's World: Games
(First: Episode 3967)
Ad blocker interference detected!
Wikia is a free-to-use site that makes money from advertising. We have a modified experience for viewers using ad blockers

Wikia is not accessible if you've made further modifications. Remove the custom ad blocker rule(s) and the page will load as expected.