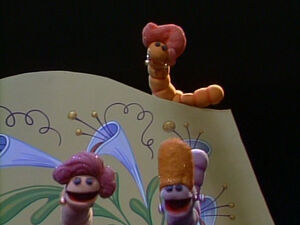 Gordon reads "Little Red Riding Hood" to the Kids. Big Bird and Mr. Snuffleupagus decide that they want to try acting out the story, but they need more people to play parts. The Big Bad Wolf shows up, dressed as Granny -- he was on his way to the real story, but took a wrong turn at Albuquerque.
Big Bird and Snuffy ask if he wants to be in their play, and he agrees -- but he doesn't want to play the wolf. They cast the Wolf as Little Red, but then Little Red herself shows up. She's happy to switch parts, so they act out the story with the Wolf as Little Red, Little Red as the Wolf, Big Bird as the Woodcutter, and Snuffy as Granny.
As they finish the play, Granny shows up -- she's been waiting by herself this whole time. She drags the Wolf and Little Red back to the story.
Segments