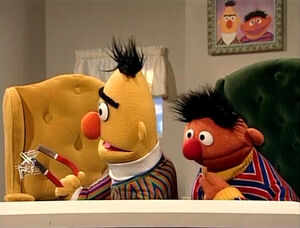 Picture
Segment
Description

SCENE 1

Elmo welecomes the viewers to Sesame Street explaining he wants make his Letter S disappear. When the Amazing Mumford with his new wand tries to make one letter "S" disappear, all the other "S"'s disappear as well. So Mumford, Elmo and Gordon set out on a journey to find where the "S"'s went.

Film

"S, You're the Best" (sung by Ron Marshall)
(EKA: Episode 3720)

Cartoon

A cartoon girl searches for the letter S in a mound of letters.

Muppets

Ernie and Bert: Bert shows Ernie his trick of picking up paper clips without using his fingers. The answer is a magnet, but Ernie says Bert's trick is mistaken, since he used his fingers to pick up the magnet.

Cartoon

"You're a Big Kid Now"
(EKA: Episode 3525)

Animation

A cowboy sings about the S words.
(EKA: Episode 3720)

SCENE 2

Mumford, Elmo, and Gordon are seraching for the letter S but find out the S has soon disappeared from the Fix It Shop sign. The letter has also disappear from Alan's special bord at Hooper's Store.

Film

A girl writes a letter to her grandmother about going to summer camp.
(EKA: Episode 3354)

Muppets

Telly, Zoe, and Prairie Dawn sing "That's the Way I Read," about the different ways each of them can read a book.
(EKA: Episode 3741)

Cartoon

African quilt pattern #2
(EKA: Episode 3134)

Cartoon

A detective discovers an odd pattern on a road.
(EKA: Episode 2292)

Film

Kid Mural Painting #16
(EKA: Episode 3811)

Animation

An animated truck displays 16 television sets.
(EKA: Episode 2882)

Animation

Growing Numbers #16
(EKA: Episode 3027)

SCENE 3

Elmo, Gordon, Mumford, and Alan are still searching for the letter S. They now decide to stop at Oscar's tarshes, and ask him some questions. Soon Slimey makes a shape of the letter S, and soon disappears which makes Oscar very upset.

Cartoon

Leanna Williams explains why she loves her brother's shoes. (Artist: ArtistMike)
(EKA: Episode 3021)

Animation

Jerry Nelson sings "The Inside Story" over film footage which shows the insides of ordinary household items.
(EKA: Episode 2795)

Cartoon

Suzie Kabloozie: Judge #16
(EKA: Episode 3925)

Muppets

The Martians discover a number 16.
(EKA: Episode 3387)

Cartoon

magician writes in his diary about the many mishaps during his performance.
(EKA: Episode 2642)

Film

Four kids fly around and form a rectangle.
(EKA: Episode 3743)




Celebrity

Ray Charles sings the Alphabet Song, and various celebrities join in, including Michael Jeter, Patrick Stewart, Tony Bennett, Shari Lewis, Lamb Chop, Harry Belafonte, Grover, David Robinson, and Ellen DeGeneres.
(EKA: Episode 3663)

Cartoon

Noodles and Nedd: Making music with tools and a trumpet.

Muppets

Big Bird recites a poem by Radar, introducing Cecille the Ball.
(EKA: Episode 3827)

Animation

Cecille sings "I'm Gonna Get to You"
(EKA: Episode 2951)

SCENE 4

After a goose chase the wand finally leads Elmo, Mumford, Gordon, Alan, and Gordon to a box. They finally open the box, and all the letter S's come out including Slimey. The wand soon makes Elmo disappear in to Elmo's World.

Muppets

Elmo's World: Birthdays
(First: Episode 3940)

SCENE 5

After everything returns to normal Gordon announces the sponsors.