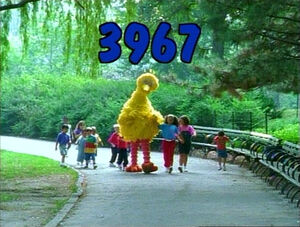 Picture
Segment
Description




SCENE 1
Gordon welcomes the viewer, hoping to spend a quiet day reading the newspaper. Ernie approaches him, asking if he's available to duckie-sit Rubber Duckie while Ernie goes with Bert to the Pigeon Lover's Convention. Gordon accepts, thinking it'll be easy, but learns he needs to squeak Rubber Duckie in a particular, loud way. After many tries, he finally gets the right squeak, but learns there's many more ways to squeak him. Ernie has him try some fast squeaks.

Film
What sound does a duck make?
(EKA: Episode 3298)




Muppets
A rooster comedian is yanked off stage, and Big Bird and Snuffy come back out to introduce the letter of the day...
(First: Episode 3885)

Song
"Big R and Little R" (Christopher Cerf)
(First: Episode 3273)

Animation
R / r (space paint)
(EKA: Episode 3227)

Animation
Find the R words on the computer.
(First: Episode 3908)




SCENE 2
After Gordon gets tired of squeaking, Ernie now shows him how Rubber Duckie likes to be held - on top of his head. Prairie Dawn briefly observes him, then splits when Ernie proposes she help duckie-sit. Gordon thinks he has everything he needs, until Ernie rushes back to the apartment to get his list of Rubber Duckie care requirements. "How do I get myself into these things?" Gordon sighs.

Cartoon
A man (Marty Robinson) has a small octopus on his head, but a little boy (Joey Mazzarino) has a big octopus.
Artist: Mo Willems
(EKA: Episode 3270)

Muppets
Grover sings "I Do Not Crawl Around Much Anymore."
(First: Episode 3536)

Song
"Get On Up and Move Your Body"
(EKA: Episode 3410)




Muppets
A trio dogs bark "Jingle Bells" until they are yanked from the stage. Big Bird and Snuffy enter and say how there's nothing like a good dog act. "And that was nothing like a good dog act!"

Film
William Wegman: Batty works with clay and pottery.
(EKA: Episode 3962)




SCENE 3
Ernie returns with a newly written list (he couldn't find the original). According to his list, the next step in duckie sitting is the alphabet. But, to say the alphabet with Rubber Duckie, he must do so while holding him on his head and squeaking him. Zoe and Brittany approach them and ask to sing too (having never sung the alphabet with someone with a duckie on their head).

Animation
Kids talk about families, often mentioning having rhinoceroses as pets.
(EKA: Episode 2759)

Celebrity
"Rubber Duckie" with Little Richard.
(EKA: Episode 3309)

Cartoon
Gordon voiceover R/r (new sound effects added)
(EKA: Episode 2405)

Song
"Letter R Menu"
(EKA: Episode 3559)

SCENE 4
Next, Gordon must count with Rubber Duckie...while holding him on his nose. Gordon refuses, until Ernie and Zoe quilt him into it. Gordon counts to 10, but Rubber Duckie likes counting to 40.

Animation
A piece of paper is folded into a chick.




Muppets
Shecky the penguin makes his final bird call on a cellphone. When he's done, Big Bird and Snuffy come out again, this time to re-introduce the number of the day ...
(First: Episode 3859)

Cartoon
Rap #6
(EKA: Episode 2580)

Film
Six children dance in a colorblock grid.
(EKA: Episode 3122)

Cartoon
Suzie Kabloozie: Judge #6
(First: Episode 3887)

SCENE 5
Gordon thinks he has everything he needs to know, but there's one thing left - putting Rubber Duckie down for his nap, which is accomplished by placing him to your hear, hopping on one foot and quacking. Gordon again refuses, claiming Rubber Duckie's merely a bath toy. Ernie takes offense, until Gordon apologizes and asks if there's an alternate way; Ernie tells him the other way to get him to sleep - putting him on your head.

Song
Joe Raposo sings "Everybody Sleeps" (re-filmed version)
(EKA: Episode 3026)




Muppets
A magician attempts a suspension act, which fails. Vaudeville team Big Bird and Snuffy then come out to introduce the number of the day ...
(First: Episode 3859)

Cartoon
"Wall of Numbers" #6
Artist: Karen Aqua
(First: Episode 3907)

Film
Six kids dance on a playground to the same beat.
(First: Episode 3819)

SCENE 6
Rubber Duckie is still napping, when Bert arrives, telling Ernie he's missed the entire convention. Since they already have a duckie sitter, they decide to go see a movie (The Adventures of Oatmeal).

Muppets
Elmo's World: Games

SCENE 7
Ernie returns to tell Gordon one last thing about taking care of Rubber Duckie - how to say goodbye. Gordon knows. He reads the sponsors with Rubber Duckie on his head. Ernie loves it, but, he says, "whatever would make you think that you had to hold him on your head?"
Ad blocker interference detected!
Wikia is a free-to-use site that makes money from advertising. We have a modified experience for viewers using ad blockers

Wikia is not accessible if you've made further modifications. Remove the custom ad blocker rule(s) and the page will load as expected.