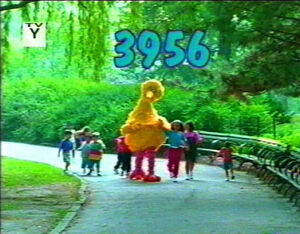 Picture
Segment
Description

SCENE 1
Big Bird wants to play with Snuffy, and Baby Bear wants to play with Telly. However, Snuffy and Telly can't come.

Cartoon
Suzie Kabloozie sings "Somebody Come and Play."
(First: Episode 3786)

Muppets
Ernie and Rubber Duckie say hello to the viewer.
(First: Episode 3808)

Film
Kids sing the alphabet on an island.
(EKA: Episode 3154)

SCENE 2
On the stoop of 123 Sesame Street, Bob and the kids sing "Sing After Me" with Big Bird and Baby Bear. Big Bird and Baby Bear part ways.

Film
Kids play loud and soft notes on the Shpritzer.
(EKA: Episode 3428)

Muppets
Ernie and Rubber Duckie introduce the number of the day.
(First: Episode 3786)

Cartoon
(song) 3 butterflies, 3 presents, 3 pennants, 3 pieces of meat in the mulligan stew, 3 lines in a triangle, 3 lamps in a traffic light.
(EKA: Episode 2208)

Muppets
Muppet & Kid Moments: Grover learns that Carrington is 3 years old.
(EKA: Episode 3261)

Cartoon
Three computer animated fish.
(EKA: Episode 2979)

SCENE 3
Baby Bear and Big Bird come to Hooper's and tell Alan about their problems. Alan suggests an obvious solution, and the two are skeptical about playing with each other -- but not for long.

Cartoon
Campers don't want to play ring toss with Zork, until their counselor reminds them about being judgmental.
(EKA: Episode 3033)

Muppets
The rainbow fish watches 3 seahorses race.
(EKA: Episode 3118)

Cartoon
Donnie Budd: Three on Lady's Lap
Bud Luckey (new sound effects added)
(EKA: Episode 0354)

SCENE 4
Big Bird pretends to be Telly for Baby Bear, and Baby Bear pretends to be Snuffy for Big Bird. They enjoy saying hello.

Cast
Luis and Maria sing "You Say Hola."
(EKA: Episode 2164)

Film
Counting from 10-0 (Latin rhythm) (Spanish dub)
(EKA: Episode 3048)

SCENE 5
Since Big Bird can't pogo stick, the two consider giving up. Instead, however, Baby Bear pogos and Big Bird counts the boings.

Song
Reggae 'Bounce.'
(EKA: Episode 3609)




SCENE 6
Snuffy's book of nursery rhymes is too big for Baby Bear, but he tries it anyway. He can't hold it, but he can still read it from underneath it.

Film
Wegman's dogs: Little Jack Horner
(EKA: Episode 3460)

Muppets
Even though Rubber Duckie didn't like the previous segment, he doesn't have to like everything.
(First: Episode 3845)

Film
A girl draws a picture of her friend Amelia.
(EKA: Episode 2784)

Muppets
Robin Williams asks Elmo and the kids whether they would allow a nonsense talking, horned two-headed stranger to play baseball with them. The Two-Headed Monster shows up to play.
(EKA: Episode 2795)

Cartoon
"b" is for bat and ball (and break). A girl imagines herself playing baseball. (new sound effects added)
(EKA: Episode 2122)

Film
(song) Ornate Bs around the neighborhood and at the beach.
(First: Episode 3266)

SCENE 7
After discussing their Telly-related and Snuffy-related activities, they hear Miles leading a letter B cheer. Now they have their own game to play: "Buh Buh Buh Buh Big Bird! Buh Buh Buh Buh Baby Bear!"

Song
Kevin Clash sings "Skin."
(First: Episode 2749)

Film
Alphaboy: B - A bumpy bicycle ride.
(EKA: Episode 3401)




SCENE 8
Telly and Snuffy can't play the Letter B cheer game, until they discover they're the Bestest Buddy and Biggest Buddy.

Muppets
Elmo's World: Singing
(First: Episode 3851)

SCENE 9
Taking turns, Baby Bear, Big Bird, Telly and Snuffy read the sponsors and play the Letter B Cheer game.
Ad blocker interference detected!
Wikia is a free-to-use site that makes money from advertising. We have a modified experience for viewers using ad blockers

Wikia is not accessible if you've made further modifications. Remove the custom ad blocker rule(s) and the page will load as expected.