Ad blocker interference detected!
Wikia is a free-to-use site that makes money from advertising. We have a modified experience for viewers using ad blockers

Wikia is not accessible if you've made further modifications. Remove the custom ad blocker rule(s) and the page will load as expected.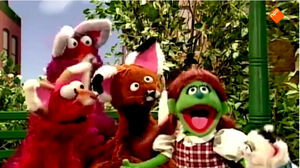 Little Murray Sparkles is sad because the cat that he was going to hang out with today has cancelled. Elizabeth wants to cheer him up, so Elmo pretends to be a cat. They have such a good time that they're joined by Big Bird, the Birdketeers, Telly and Baby Bear, all pretending to be cats.
At the end of the day, Little Murray Sparkles doesn't want to go home, so Elizabeth sings "Remember" (a spoof of "Memory", the showstopping Cats ballad.)
Segments