Sesame Street
Plot
Maria spends the day looking after everyone's pets
repeat of 3791
Air date
January 31, 2001
Season
Season 32 (2001)
Sponsors
M, 12

This episode guide has been compiled from incomplete video material.

ⓘ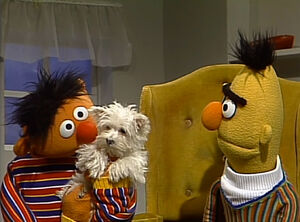 Picture
Segment
Description

SCENE 1
Big Bird notices that Gabi has a bunny rabbit with her. Gabi tells her she's watching the bunny, named Flo, for her friend. She has to go to school and doesn't want to leave it cooped up in her cage all day. She asks Maria to watch over it at the Fix-It Shop.

SCENE 2
Big Bird and Gabi set up Flo at the shop and head off, Gabi to school and Big Bird to a counting appointment with Zoe. Telly and Elmo stop by to see Flo and then run off, having had an idea.

Muppets
Ernie & Bert: Ernie brings a surprise home, and he tells Bert to guess what it is. The surprise turns out to be a puppy. Bert wants to call the puppy "Norman"; Ernie suggests "Godzilla the Wonder-Dog".
(EKA: Episode 2064)

SCENE 3
Telly returns with Chuckie and asks Maria to watch over him too. He tells her all it takes to keep Chuckie entertained is to say the alphabet. He runs off, having a list of things he needs to demonstrate...




Muppets / Celebrity
Gymnast Dominique Dawes demonstrates up, down, fast and slow for Telly.
(First: Episode 3705)

Film
Wegman's dogs make an M.
(EKA: Episode 3683)

SCENE 4
Elmo now brings Dorothy to Maria to keep her company. He then plays a round of "Three of These Things" using the pets and a toaster.

Song
David sings "I'm Pretty" over a film of fish and other sea creatures.
Re-filmed version
(EKA: Episode 2490)

SCENE 5
Big Bird returns with Trilby, Herry Monster's pet bird. Herry leaves a note, saying he needs someone to watch the bird as he heads off on a daycare mission. Big Bird offers to help Maria and recites the alphabet for Chuckie.

Cartoon
M for mouse, mud, and mother
(First: Episode 0073)




Muppets
Monsters in Day Care
Nicole shows Herry Monster the letter M. Later on, he and the daycare monsters make a letter M of their own, sing "M-M-M Monster Meal," and eat their M.
(First: Episode 3791)

SCENE 6
Trilby "tells" Big Bird that he feels left out, as all the other pets are on the workbench. Maria has no more room to work if they put the bird on it, but relents and decides to work inside. However, Trilby doesn't want her to leave.

Insert
A girl named Emma shows Gina her kitten.




SCENE 7
Everyone returns for their pets and Telly also comes to pick up his toaster, but Maria hasn't had time to fix it. He panics and tells everyone to take their pets so Maria can do what "she does best." Elmo thinks their pets will be lonely on their own, but Maria assures them they'll be fine. Big Bird sings the "Alone Song" and everyone lets Maria work by herself.

Muppets
Elmo's World: Dogs
(First: Episode 3852)

SCENE 8
Maria finishes Telly's toaster and announces the sponsors.