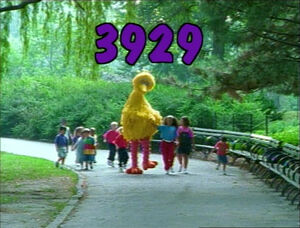 Picture
Segment
Description

SCENE 1
Elmo has got hold of a cowboy hat, and he spends the day imagining that he's in the Wild, Wild West.

Film
H for Hat - kids try on different hats as camera shutters go off.
(EKA: Episode 3368)

Animation
Soul H!
(EKA: Episode 3368)

Film
The floating kids form H.
(EKA: Episode 3118)

Muppets
Ernie sings "Imagine That", a song about imagining things that he'd like to be. First, he imagines that he's a knight in shining armor who battles a dragon. Then he imagines being a sailor crossing the sea. Finally, he decides that he's happy being himself.
(EKA: Episode 2142)

SCENE 2
Elmo imagines Big Bird and the Birdketeers sing The Alphabet Song with him and other animals. Little Murray Sparkles plays the piano, and is called "Miss Kitty".

Animation
Horses appear in the clouds as Vivaldi music plays.
(EKA: Episode 3686)

Muppets / Celebrity
Garth Brooks and Herry Monster sing "Together, We'll Make Music".
(First: Episode 3814)

Film
Planting Letters: H
(First: Episode 3016)

Animation
H in space (with astronauts)
(EKA: Episode 3697)

SCENE 3
Elmo imagines Baby Bear as the Porridge Kid and they both duel for the last bowl of porridge. They ended up sharing the bowl of porridge.

Cartoon
Three chickens divide up their corn.

Muppets
Marshal Grover and Fred the Wonder Horse look for water in the desert.
(EKA: Episode 2874)

Cartoon
Suzie Kabloozie: Judge #6
(First: Episode 3887)

Film
Six kids dance on a playground to the same beat.
(First: Episode 3819)

Cartoon
Donnie Budd sings about six snails.
(EKA: Episode 0346)

SCENE 4
Elmo imagines The Count as a cowboy and they both count mooing cows.

Animation
A horseshoe and boot pattern
(EKA: Episode 3577)

Film
Six children dance in a colorblock grid.
(EKA: Episode 3122)

Cartoon
"Wall of Numbers" #6
Artist: Karen Aqua
(First: Episode 3907)

SCENE 5
Oscar and Slimey also appear as cowboys.

Film
What sound does a horse make?
(EKA: Episode 3337)

Muppets
Forgetful Jones needs something to ride around the ranch. Clementine gives him clues: it has four legs, a bushy tail, eats hay, and neighs. It's his horse Buster, who arrives with the jeep.
(EKA: Episode 2275)

Film
A zydeco band plays "Bayou Pon Pon" while people dance and the townspeople of New Orleans wave at the camera.
(EKA: Episode 2589)

Cartoon
Slot-machine legs: Cowboy & horse
(EKA: Episode 2073)

SCENE 6
Elmo rides off in the sunset on Fred the Wonder Horse as he says good bye to his friends.

Muppets
Elmo's World: Teeth
(First: Episode 3919)

SCENE 7
Elmo announces the sponsors.