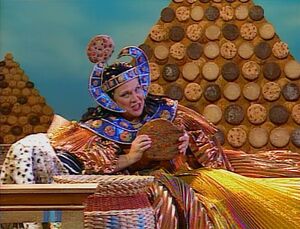 Baby Bear's cousin comes to visit, but he is afraid of the monsters that inhabit the street. Telly can't play with Baby Bear or he'll scare Cousin Bear, so he dresses up like a bear. Once Cousin Bear finds out Telly isn't a bear, he realizes he's been hanging out with a monster all day and isn't afraid. Telly teaches Cousin Bear how to do the monster dance.
Segments
See also
Ad blocker interference detected!
Wikia is a free-to-use site that makes money from advertising. We have a modified experience for viewers using ad blockers

Wikia is not accessible if you've made further modifications. Remove the custom ad blocker rule(s) and the page will load as expected.