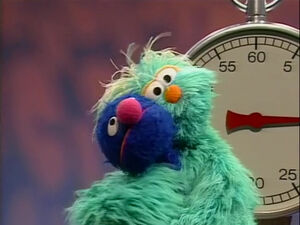 Gina introduces her new baby niece, Hannah, to Big Bird, who decides to teach the baby everything he knows. Elmo sings a lullaby to Hannah, but ends up falling asleep himself. When the baby falls asleep, Telly shows up with a bunch of animals, concerned that Gina won't have time to be a veterinarian now that she has a baby niece to take care of. Gina assures him that she'll have time for the baby and for her patients. Big Bird brings Humphrey and Baby Natasha over to meet Hannah, and the two babies get along.
Segments
Ad blocker interference detected!
Wikia is a free-to-use site that makes money from advertising. We have a modified experience for viewers using ad blockers

Wikia is not accessible if you've made further modifications. Remove the custom ad blocker rule(s) and the page will load as expected.