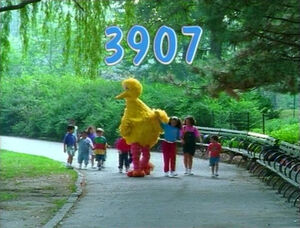 Picture
Segment
Description

SCENE 1

Big Bird welcomes the viewer and notices three Ts from the street sign suddenly come off. "WHAT'S GOING ON?!", he cries.

SCENE 1 cont'd

Telly Monster writes his name on his pad, but then the letter T he wrote runs off too. Big Bird rushes to tell Telly what happened and they both are confused.

Film

Spinning T (to the tango beat).
(EKA: Episode 2933)

Animation

Airplanes carve the capital and lowercase T.
(EKA: Episode 3714)

Muppets

Grover demonstrates "surprise" with Prairie Dawn in thirty seconds.

SCENE 2

Gabi doesn't believe that the Ts are missing until Hooper's Store becomes Hooper's S ore. What's going on?

Cartoon

"Just look for letters in all the parts you know"
(EKA: Episode 3402)

Muppets

Muppet & Kid Moments: Ernie talks to Kayla about being happy, and they tickle each other.

Cartoon

A mouse demonstrates between by squeezing between two elephants.
(EKA: Episode 2784)

Song

"Write Your Name"
(EKA: Episode 3274)

SCENE 3

Tarah too finds the situation hard to swallow, until she tries typing her name and the "T" on-screen and on the keyboard come off.

Song

"We Got the Power" - a hip-hop song about computers
(EKA: Episode 3058)

Muppets

Elmo asks Dorothy what the number of the day is.

Cartoon

"Dancing With the Number 6"
Artist: Karen Aqua

Muppets

Kermit the Frog counts six happy little Twiddlebugs, and when he is finished, the Twiddlebugs have a party.
(First: Episode 0280)

Cartoon

"Six Soccer Socks"
Artist: Paul Fierlinger
(EKA: Episode 2490)

SCENE 4

They gang sees what life would be like without the letter T and sing a sing a song, pleading the letter T to return.

Muppets

Elmo introduces a circle segment, adding that Dorothy likes to swim in circles.

Film

Looking for circles in the city (Maria voice-over)
(EKA: Episode 2789)

Muppets / Celebrity

R.E.M. sings "Furry Happy Monsters."
(EKA: Episode 3844)

Cartoon

A cat desperately tries to open a can of cat food by himself while his mistress is on the phone.
Artist: Dan Haskett
(EKA: Episode 2424)

SCENE 5

Telly gets an idea to ask a letter T about the mysterious disappearance of the letter. Because there are no Ts around, they draw one, but it floats away without giving a response. They then hypothesize that if they build a T, they can hold onto it before it splits. They go to the Fix-It Shop to make one.

Animation

Colored tools build a house out of colored rectangles, squares and triangles.
(EKA: Episode 3410)

Film

Six kids dance on a playground to the same beat.
(EKA: Episode 3897)

Animation

The Queen of Six explores her garden.
(EKA: Episode 0234)

Muppets

Elmo finds out that Dorothy wants to hear a song.

Animation

Cecille sings "I'm Gonna Get to You."
(EKA: Episode 2951)

SCENE 6

Maria too is confused by their story, but builds them a T anyway. The T comes to life and before he breaks free, he tells them they're invited to where he's going. They follow him, while Maria remarks "Only on Sesame Street!"

Film

The floating kids form a capital T.
(EKA: Episode 3121)

Muppets

Next, Dorothy wants to see an alphabet segment, so Elmo shows her one ...

Film

The letters of the alphabet are found in signs all over the city.
(EKA: Episode 3717)

Muppets

"Daddy Helps with the Dishes" - three families sing about how they help each other doing chores, cooking and homework.
(EKA: Episode 2874)

Song

Joe Raposo sings "Somebody Come and Play."
Snow leopards version
(EKA: Episode 2638)

SCENE 7

They have followed the T all the way down the street, where they find the Ts are throwing a "T Party", where they tango, tickle and play tag. One T tags Big Bird and they begin joining the fun.

Muppets

Elmo's World: Dogs
(First: Episode 3852)

SCENE 8

Tarah, Telly, Big Bird, and Gabi announce the sponsors as the Ts reappear.