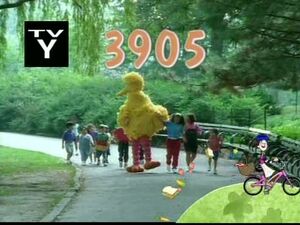 Picture
Segment
Description




SCENE 1
Stinky and Elmo welcome the viewer to Sesame Street. Elmo announces the sponsors, and asks Stinky if it's fun being a plant. He wants to pretend to be a plant today, so Stinky suggests that he get his own flower pot. Elmo runs off to get one, and Stinky feels honored that Elmo wants to be like him.

Animation
Pencil Box B / b
(EKA: Episode 3040)

Film
Alphaquest: B
(EKA: Episode 2866)

Cartoon
B for banana and ballerina
(EKA: Episode 2615)




SCENE 2
Elmo gets inside his pot, and wonders what kind of plant he is. Stinky calls him a "furry red monster plant," a name which Elmo likes. So what do plants do, Elmo wonders? According to Stinky, they just sit around and enjoy the sun. Elmo likes it at first, but soon realizes, "It's not easy being a plant ..."

Animation
"Flowers on the Doorstep"
(First: Episode 3140)




Muppets
Monsters in Day Care
Herry Monster observes three kids sing "Eensy Weensy Spider," which he passes on to his monster pals later on.
(First: Episode 3786)

SCENE 3
Before long, Elmo the plant starts to get tired of enjoying the sun ...

Cartoon
How Andy Fritz Ate the Sun.
Artist: ArtistMike
(EKA: Episode 2749)

SCENE 4
Elmo wonders if there's anything else that plants do. Stinky points out that plants need water, and remembers that Gabi should be coming by to water him soon. Elmo decides to call out for water, and sure enough, Gabi arrives, with water for both Elmo and Stinky.

Cartoon
Two hippie kids wonder how to make their droopy plant grow.
Artist: Elwood Smith
(EKA: Episode 1484)

Song
Jerry Nelson sings "Don't Waste Water."
(First: Episode 2804)

SCENE 5
Elmo wonders if plants do anything besides enjoying sunlight and getting watered. Stinky doesn't think so, but Elmo suggests that they could both sing The Alphabet Song, which they do. Stinky has so much fun, he wants to sing it again (and say "Music, Maestro!").

Cartoon
While fishing one day, a boy catches the letters of the alphabet. Frustrated at not having caught any fish to eat, he decides to use his catch for alphabet soup. (new music added)
(First: Episode 0004)

Muppets / Celebrity
Garth Brooks sings about two kids who are "Different."
(EKA: Episode 3187)

Film
Kid jungle explorers spot a wild letter B.
(EKA: Episode 3508)
Cartoon
B for Beard (poem by Edward Lear) (new music added)
Artist: Jeff Hale
(EKA: Episode 1538)




SCENE 6
Big Bird takes Radar for a ride on the "Teddy Bear Bus" (a wagon). Elmo wonders if plants can move around, and Stinky says they can't ... unless, perhaps, they're on a wagon such as Big Bird's! Big Bird agrees to take Elmo and Stinky for a ride, loads them up into his wagon, and they all head off.

Cartoon
Ranger Armbuckle talks about how plants travel -- by sowing their seeds.
Artist: ArtistMike
(EKA: Episode 2727)

Film
Milo Counting: 7
(EKA: Episode 3595)

Cartoon
Suzie Kabloozie: Judge #7
(First: Episode 3868)

Song
"They're Not Alive"
(First: Episode 3661)

Animation
The word BUS is displayed, followed by a graphic of a school bus leaving.
(EKA: Episode 3052)

SCENE 7
Elmo decides to rename it the "Teddy Bear and Plant Bus," as they pass Oscar's trash can and the Fix-it Shop.

Animation
Kids are surprised when animated things pop up out of nowhere.
(EKA: Episode 3567)

Cartoon
Rap #7
(EKA: Episode 2506)

Film
Seven kids dance on a playground to the same beat.
(First: Episode 3844)

Cartoon
Seven rabbits
Artist: Owe Gustafson
(EKA: Episode 1540)

SCENE 8
Big Bird sets Elmo and Stinky back up on the crate they were on before. Big Bird wishes he could pretend to be a plant with them, and they say there's no reason why he can't - all he needs is a big enough pot. So, he goes off to get one from Snuffy's mommy. Stinky is excited about adding to their growing group of plants.

Film
"In the middle of the city we have a garden..."
(First: Episode 2889)

Muppets
Cookie Monster sings "If Moon Was Cookie." (underscore added to intro)
(EKA: Episode 2619)

Cartoon
A blue man demonstrates in and out with the help of a barrel.
(EKA: Episode 2363)

SCENE 9
Big Bird has fun sitting in his pot, and wonders what plants do. Elmo repeats what Stinky told him earlier - plants do nothing but sit around, enjoying sunlight. Big Bird tries it himself, but just then, Elmo has to leave to tend to Dorothy. He thanks Stinky for a great day, and leaves. Big Bird has trouble getting used to all this sunlight: "It's not easy being a plant."

Muppets
Elmo's World: Dancing
(First: Episode 3801)

SCENE 10
Big Bird announces the letter of the day, and lets Stinky do the number. A credit crawl follows.
Notes