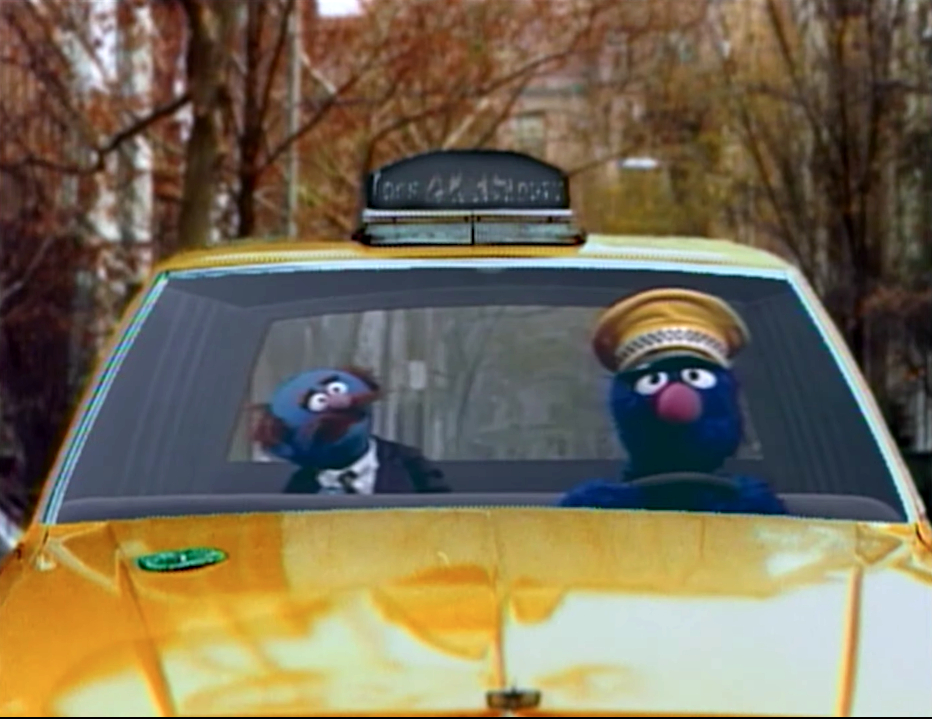 CTW description
Luis is trying to repair the Zoemobile in the Fix-It Shop, but it's turning out to be harder than he had thought. Telly, Big Bird, and Zoe talk among themselves and wonder whether Maria could do a better job fixing it -- but Luis overhears them. They apologize for hurting his feelings, and Luis ends up making the Zoemobile better than ever.
Segments
Suzie Kabloozie introduces the letter of the day made out of fudge--which Fef has eaten.
Film: "K" is for karate, demonstrated by kids.
Animation: Pencil-Box K (EKA: Episode 2876)
Cookie Monster: Cookie Monster is about to eat a cookie, as a sad-looking girl approaches and stares at him. He tries to eat the cookie, but can't do it. He breaks the cookie in half and shares the cookie with the girl. He eats his half of the cookie. When the girl eats her half, she eats it just like Cookie Monster. (EKA: Episode 0730)
Cartoon: Lady Galanto demonstrates near and far in a short jazz song.
CAR animation (VW beetle)
Song: Let's Go Driving (EKA: Episode 2363)
Suzie Kabloozie: Judge #5
Film: five Chinese kid acrobats jump through hoops.
Cartoon: A girl boasts about her mom's ability to dribble five balls at once. (EKA: Episode 3525)
William Wegman's dogs show what a mechanic does.
Grover and Mr. Johnson: Grover the taxi driver picks up Mr. Johnson, who's startled to find his usual waiter driving a cab. Mr. Johnson wants to go to the library. Grover says that that is a very wise choice, and talks about the great things about a library. "Of course, you could also go to the zoo," he observes, and talks about the benefits of visiting the zoo. He also suggests the museum, or a movie. Mr. Johnson insists that they go to the library -- but Grover says they'll have to wait until he gets his cab fixed. It's broken. (EKA: Episode 3373)
The Two-Headed Monster buckle their seatbelts before a drive.
A kid flies around around to form the shape of a circle.
Cartoon: K--Kent, King of the Forest (EKA: Episode 0810)
Animation: Letter Ks on sticks swing around a park during an upbeat song. (EKA: Episode 3190)
Animation: A family go on a trip to Watermelon Lane, but fail to check the road map and end up in Pumpkinville (Artist: ArtistMike)
Muppets/Celebrity: Sing, by a montage of celebrities, including Patti LaBelle, Rosemary Clooney, Fran Drescher, and Isaac Stern, among others.
Film: two girls do a quick hand-clapping game while counting to five. (EKA: Episode 3007)
Cartoon: Two men observe a short ladder, each debating whether or not it has more than five steps on it.
Film: "Simple Pleasures" by Bobby McFerrin is played over footage of a girl trying to play frisbee with a dog on the beach. (EKA: Episode 2876)
Cartoon: Two squiggles encourage another squiggle in some exercises.
Film: Kids stop and start the rows of cars on a busy street.
The sponsors are announced and Zoe, The Zoe Mobile, and Luis sign off.