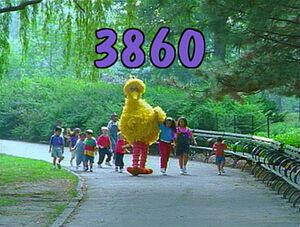 Picture
Segment
Description

SCENE 1

Big Bird displays today's sponsors on a card, while Telly frets about his hamster, Chuckie, who hasn't been moving for a week, or running on his hamster wheel. Big Bird thinks Chuckie needs a laugh, so he and Telly try to elicit one out of him by singing "Rubber Chuckie," which doesn't work. They remember that Gina is studying to be a veterinarian, and call her over.

Cartoon

Suzie Kabloozie sings "Every Kitty Sleeps."

Film

Ornate 4s fly through the air.
(EKA: Episode 3317)

Cartoon

The Quadratic Equations (from the Lunar Lounge) sing about 4 and their four heads.
(EKA: Episode 3712)

SCENE 2

Gina asks Telly some questions about Chuckie's state. Finally, she asks if Chuckie has been around any other hamsters lately. Telly recalls that last month Chuckie played with Elizabeth's hamster Herman, and Gina breaks it to Telly that Chuckie is going to have babies. Telly is surprised to learn that Chuckie is a girl, and even more surprised that the babies could be born any minute now! In a panic, he calls for a taxi.

Film

A mother and daughter signal for a taxi, and they're picked up by people dressed as the letters TAXI.
(EKA: Episode 3789)

Muppets

Natasha crawls across the screen from left to right.
(EKA: Episode 3771)

Film

Katie is going to be a big sister.
(EKA: Episode 2909)

Muppets

Natasha crawls across the screen from right to left.
(EKA: Episode 3771)




SCENE 3

A taxi arrives, but the taxi driver assures Telly that a visit to the hospital is not necessary for hamsters: like Gina, she had a pet hamster when she was a kid, and it did just fine staying in its cage. Gina and Big Bird then help Telly make a list of what the baby hamsters will need. He leaves, and tells Chuckie not to have the babies until he gets back.

Cartoon

Z for Zebu (new music added)
Artist: Bud Luckey
(EKA: Episode 1210)

Muppets

Muppet & Kid Moments: Cookie Monster and Lexine identify a letter Z.
(EKA: Episode 3296)

Animation

The Letter Z in various typefaces.
(EKA: Episode 2855)

Muppets

Natasha crawls across the screen from the bottom to the top.
(EKA: Episode 3771)




SCENE 4

Alan shows Telly some of the pet toys he has, and gives him a popsicle stick for the baby hamsters to chew on. He carries Telly's bags over to the table, where they unpack everything they got. Some kids even drew animal pictures for the babies to look at.

Muppets

Ernie's Show and Tell
Nelson shows Ernie the baby booties he got for his yet-to-be-born sister.
(First: Episode 3812)

Muppets

Natasha crawls across the screen from the top left corner to the bottom right corner.
(EKA: Episode 3771)

SCENE 5

Telly thanks the kids for the pictures they made, and they toss around ideas of what else to do with the babies. Telly remembers Maria telling him that babies can hear from inside their mothers before they're born, so Big Bird tries talking to them. Telly decides they should tell the babies something they'll need to know after they're born, so everyone sings the alphabet song.

Song

John Pizzarelli sings about feeling "happy and proud" on your birthday.
(EKA: Episode 3421)

Muppets

Natasha finally reaches her goal: a giant baby bottle! She drinks up all the milk, and lets out a large burp.
(EKA: Episode 3771)

Cartoon

A television reveals many Z words.
(EKA: Episode 3699)

Animation

Z / z Gregorian chant
(EKA: Episode 3332)

Film

Wegman dogs: "Pat-a-Cake"
(EKA: Episode 3576)




SCENE 6

Big Bird, Gina and the kids have to leave, but first they count to 20 for the babies. Telly stays beside Chuckie and waits for the babies to be born.

Animation

In a Van Gogh painting, a baby takes its first steps to Papa.
(EKA: Episode 3492)




Muppets / Celebrity

"Sing"
Celebrity montage #2

Film

Four children dance in a colorblock grid.
(EKA: Episode 3149)

Film

Egyptian #4
(EKA: Episode 3306)




SCENE 7

Gina has a drink at Hooper's, when she and Alan hear Telly shout "Four!" which is the number of hamster babies that have just been born! They all rush over to admire them, and think about what to name them. Telly suggests Curly, Moe, Larry, and Chuckie for male names, and Amy, Meg, Beth, and Rita for female names. Since their gender is unknown at this time, Big Bird names them 1, 2, 3 and 4.

Song

"Beautiful Baby" (remake)
(EKA: Episode 3636)




SCENE 8

The gang says goodbye to Telly, Chuckie and the baby hamsters. Telly looks at the babies and reflects on what a magical day he's had as an instrumental of "Little Things" plays.

Muppets

Elmo's World: Singing
(First: Episode 3851)




SCENE 9

Telly says his hamster's full name will be Chuckie Sue from now on. Alan sets up the camera to take a picture of the gang. The taxi driver announces the sponsors, the gang waves goodbye, and the credits roll.
Notes
Ad blocker interference detected!
Wikia is a free-to-use site that makes money from advertising. We have a modified experience for viewers using ad blockers

Wikia is not accessible if you've made further modifications. Remove the custom ad blocker rule(s) and the page will load as expected.