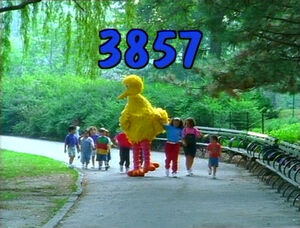 Picture
Segment
Description

SCENE 1

Gina welcomes the viewer and explains Zoe will be staying over while her parents are away. Before they head back to Gina's apartment, they introduce the letter of the day - V (who deliberately makes sure she's mentioned).

Film

V for voice, violin, Victrola, etc.
(EKA: Episode 3429)

Cartoon

A poem about Vinnie the Vampire
Artist: Fred Garbers
(EKA: Episode 3800)

Film

"Visiting Iesha": Olivia sleeps over at Iesha's house, and spend the morning together. Olivia is white and Iesha and her family is black. Next time, Iesha wants to visit Olivia's family.
(EKA: Episode 2756)

SCENE 2

Gina sets up for the night, when Rosita and Elizabeth appear at the door. Zoe explains she had invited them over for a pajama party before her parents decided to leave, so they tracked her down to Gina's. The girls guilt Gina into letting them stay and she orders a pizza.

Cartoon

Letters gather in order, against the birds-eye view of a city.
(EKA: Episode 3314)

Film

A boy draws a picture of his friend, Katie.
(First: Episode 2760)

Muppets

Mr. Johnson is at home when he calls for pizza delivery. Naturally, the delivery comes by way of Grover who keeps messing up the order because he's not listening to the order. He brings a carpenter's saw and a potted flower attached to his head as a result of cutting Mr. Johnson off mid-sentence.
(EKA: Episode 3039)

Film

PIZZA: In speed-up footage, a group of kids orders pizza, and have it delivered to their house.
(EKA: Episode 3408)

Cartoon

Pizza maker Original Jay demonstrates how he got his name: his pizzas talk and dance.
Artist: Mo Willems
(EKA: Episode 3280)

SCENE 3

Big Bird (sent by Alan) delivers the pizza to Gina. The girls invite him to sleep over too and Gina decides it's fine. Big Bird leaves to fetch Radar.

Cartoon

"Captain Spacey" counts 8 planets until the 25-cent rocket machine runs out of juice.
(EKA: Episode 3554)

Film

Milo Counting: 8
(EKA: Episode 3554)

Muppets

Ernie and Bert: Ernie can't sleep, because he's afraid of dark shadows and spooky things. Bert comforts him, and the two sing "Imagination" before falling asleep. (beginning edited)
(First: Episode 3820)

Animation

A boy has a dream in which he floats in Outer Space between things.
(EKA: Episode 3093)

SCENE 4

On Big Bird's way to his nest, he runs into the number of the day - 8, who has been waiting all day to be introduced. Big Bird gives him a proper intro.

Cartoon

Eight frogs are counted.
Artist: Owe Gustafson

Muppets

Little Chrissy sings "Eight Balls of Fur."
(EKA: Episode 2883)

Film

Wegman dogs: Batty as Little Bo Peep, seeking her sheep. (only part 1 is shown)
(EKA: Episode 3525)

SCENE 5

Big Bird gets Radar, when he finds a whimpering Barkley out on his own. Big Bird tries asking Alan about Linda's whereabouts, but finds Hooper's Store is closed. The same thing happens when he wants to ask Maria at The Fix-It Shop. Big Bird knows where to find a grown up - at Gina's!

SCENE 5 cont'd

As Big Bird takes Barkley over, the sponsors decide to also go to Gina's, sensing that's where all the action is.

Animation

Ornate Vs spin around as a song about them plays.
(EKA: Episode 2942)

Cartoon

A plane makes Vs with its vapor trails.

Muppets

Elmo sings about the "Planets, Moon and Stars."
(EKA: Episode 3782)

Film

A child performs a poem called "Night" in sign language.
(First: Episode 3807)

SCENE 6

Gina is confused when Big Bird brings all the new guests in. She calls Bob, who doesn't appear to be home. The girls all cheer up the sad Barkley, who will be sleeping over too (along with the V and 8).

Animation

The word LOVE is formed on paper.
(EKA: Episode 3565)

Muppets / Celebrity

Michael Jeter sings "Dance Myself to Sleep", accompanied by the Boogie-Woogie Sheep.

Cartoon

Noodles & Nedd make the bed.
Artist: John R. Dilworth
(EKA: Episode 3663)

Animation

Stop-motion: The word TOY is spelled in blocks.
(EKA: Episode 3394)

SCENE 7

Everyone is ready to sleep, when they're startled by the phone. Bob calls and Gina explains Barkley will be sleeping over. Zoe struggles to get back to sleep and is told to count sheep. Several sheep show up at Gina's door for her to count.

Muppets

Elmo's World: Exercise
(First: Episode 3853)

SCENE 8
All of the guests sleep and Zoe, Rosita, and Elizabeth grow eyelids. Gina announces the sponsors.