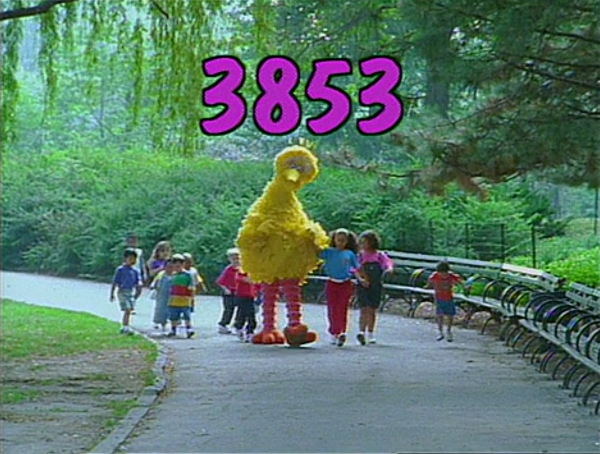 Picture
Segment
Description

SCENE 1
Elmo is reading a book about zoo animals, and makes the noises of each animal. Maria tells him that she loves going to the zoo.

Cartoon
Name That Sound: identify animal sounds.
(First: Episode 3587)

Muppets
Big Bird recites a short poem introducing the letter of the day.
(First: Episode 3834)

Song
"Letter R Menu"
(EKA: Episode 3559)

Cartoon
A piece of paper unfolds itself to show R, r, Rr.
(First: Episode 3127)

Cartoon
R for Rhinoceros (poem)
Artist: Jeff Hale
(EKA: Episode 1691)

SCENE 2
Elmo asks Maria to take him to the zoo, but she's too busy working in the Fix It Shop.

Cartoon
A kid has a zoo in him.
(EKA: Episode 0796)

Muppets
The dark-bearded half of the Two-Headed Monster wakes up to argue with itself over whether to go to the zoo or the playground. The two both end up taking naps instead.
(EKA: Episode 2223)

Animation
Can you find the animals hiding in the T-shirt? (voiceover by David Rudman)
Aritst: Deanna Morse
(First: Episode 2873)

SCENE 3
Elmo brings the zoo to Maria by dressing up as a lion and a monkey. He gets tired of alternating between the two, so Maria suggests he find some more friends to dress up as animals.

Film / Animation
A class makes up a story about going to the zoo, which is told through animation based on the kids' drawings.
(EKA: Episode 3373)

Cartoon
Rubber Stamp #12
(EKA: Episode 2932)

Muppets
Muppet & Kid Moment: Samantha says she'll count to eleven for Grover, but she can't help getting to twelve.
(First: Episode 3526)

Cartoon
"Ladybugs' Picnic"
(EKA: Episode 0416)

SCENE 4
Elmo recruits Baby Bear to dress up as a zoo animal... something other than a bear. Baby Bear decides to dress up as a monkey.

Film
Jaws spoof with the letter R.
(EKA: Episode 3351)

Cartoon
Autumn leaves form an R.
(EKA: Episode 3110)

Film
A visual representation of the nursery rhyme "To Market" with Wegman's dogs.
(EKA: Episode 3684)

Muppets
Cookie Monster and Ernie: Cookie Monster appears to Ernie as the Cookie Bunny.
(EKA: Episode 1187)

Film
Puzzle pieces make a video of a bear.
(EKA: Episode 3085)

SCENE 5
Rosita joins Elmo and Baby Bear by becoming a bear.

Animation
"The African Animal Alphabet"
(First: Episode 3396)

Muppets
Big Bird recites a poem about the sun.
(EKA: Episode 3357)

Film
A boy recites his poem, "Rabbits, Trees and Water."
(First: Episode 3837)

SCENE 6
Gina, Devon and Devon's live rabbit sing "Three of These Things" with Elmo, Rosita and Baby Bear.

Film
A gardener trims a bush to form a giraffe.
(First: Episode 3138)

Celebrity
Denyce Graves sings "Sing" with some penguins.
(First: Episode 3848)

Cartoon
The Bellhop has to make 12 wake-up calls.
(EKA: Episode 2529)

Muppets
Big Bird asks to see that number one more time.
(EKA: Episode 3247)

Film
Ornate 12s sail through the air.
(First: Episode 3274)

SCENE 7
Elmo tells Maria that the zoo also has "Tigers and monkeys and bears." "Oh my!" Maria replies, in a reference to The Wizard of Oz. Baby Bear and Rosita parade by dressed in their costumes, while Devon and his rabbit have dressed as a giraffe and a leopard, respectively. Sara is an elephant, and a penguin dresses as a business man on vacation visiting the zoo.

Muppets
Elmo's World: Exercise

SCENE 8
The cast signs off.