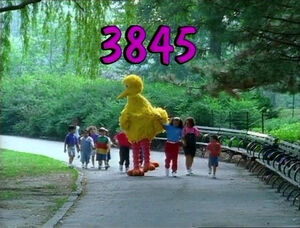 Picture
Segment
Description




SCENE 1
In the courtyard, Elmo shows Maria the book he wrote with Big Bird, Gabi and two kids. Maria agrees to read it to them (and the viewer), and Elmo reveals that there's a surprise at the end. Maria starts by reading the front cover of the book, then begins reading the story.




SCENE 1
cont'd
In the story, Gordon tries to read a story to Big Bird, Elmo, Baby Bear and the two kids, but are bothered by Oscar's elephant, Fluffy, who is tap-dancing so loudly that they get easily distracted. Fluffy does the old soft-shoe, which sounds much better to them, but then Biff and Sully show up and start their loud construction work. Big Bird wishes that Sesame Street had a tiny, quiet garden.

SCENE 1
cont'd
Just then, The Amazing Mumford appears.

Cartoon
Jerry Nelson sings "In My Book."
(First: Episode 2983)

Muppets
Ernie's Show and Tell
Sankarj shows Ernie his book about dinosaurs.

Animation
A girl reads a book, a magazine, a newspaper, and a letter.
(First: Episode 3142)

SCENE 2
Maria continues reading the story ...




SCENE 2
cont'd
... in which The Amazing Mumford uses magic to make a picture of a garden, which only the group can make if they all cooperate and work together to clear out all the trash in the patch of land behind the fence ("I'm a magician, not a contractor!"). Before Mumford leaves, he gives them his website URL, www.alapeanutbuttersandwiches.com. They look behind the fence, and are disgusted by the big mess they see (except for Oscar, who thinks it's perfect).

Song
"Litter Rap"
(EKA: Episode 2646)

Muppets
Ernie and Rubber Duckie introduce the letter of the day.
(First: Episode 3813)

Cartoon
O for open, off, owl, ocean
(EKA: Episode 3091)

Animation
Fans reveal the letter O.
(First: Episode 2905)

Animation
Planting Letters: O
(First: Episode 3010)

SCENE 3
Maria is now at the part of the story where Oscar agrees to give the group some building supplies, in exchange for the trash at the back of the fence.




SCENE 3
cont'd
As they gather trash, Gordon leads them in singing "Great Big Beautiful World." Gina, Zoe and Telly have joined them by now.




SCENE 3
cont'd
After the song is done and all the trash is collected, Gina remembers that there was a great big rock underneath it all, and they're not quite sure how to remove such a heavy thing from the area ...

Cartoon
Two men push two large bird eggs on top of two hills.
(EKA: Episode 0936)




Celebrity
Ray Charles sings the Alphabet Song, and various celebrities join in, including Michael Jeter, Patrick Stewart, Tony Bennett, Shari Lewis, Lamb Chop, Harry Belafonte, Grover, David Robinson, and Ellen DeGeneres.
(EKA: Episode 3526)

Muppets
Ernie asks Rubber Duckie what he wants to see next.
(First: Episode 3786)

Film
In sign language, a boy reads his poem, "My Tree."

SCENE 4
Maria continues reading the story ...




SCENE 4
cont'd
The group is now faced with a challenge: how do they move the rock? They all try to pull it with a rope, but none of them are strong enough. Herry Monster on the other hand, is stronger than all of them, and is willing to lend a helping hand. They can't decide where to put the rock, so they let him have it ("It'll look great in my mommy's rock garden.").

SCENE 4
cont'd
Maria gets to the part where Snuffy offers to help them make a stone floor, but first he has to get his grass skirt ...

Cartoon
Leanna Williams tells a story of how she traveled to Hawaii and bought a Hawaiian shirt.
Artist: ArtistMike
(EKA: Episode 2745)

Muppets
Ernie and Rubber Duckie introduce the number of the day.
(First: Episode 3786)

Cartoon
The Quadratic Equations (from the Lunar Lounge) sing about 4 and their four heads.
(EKA: Episode 3712)

Film
Four Chinese acrobats do stunts with giant spools.

Cartoon
Four construction workers build a number 4. (new music added)
(EKA: Episode 1040)

SCENE 5
Maria continues where she left off ...




SCENE 5
cont'd
... which is the part where Snuffy dances the famous Hawaiian "floor installation hula" dance, which helps put the stones further into the ground, making it nice and flat.

SCENE 5
cont'd
Maria has reached the part where the group assembles the garden together, and Elmo reminds us of the surprise at the end ...

Film
Some kids talk about a garden they have in the middle of the city.
(First: Episode 2889)

Muppets
Even though Rubber Duckie didn't like the previous segment, he doesn't have to like everything.

Animation
Sand O / o
(EKA: Episode 2253)

Film
A gymnast twirls ribbons to form the letter O.
(First: Episode 3136)

Animation
Characters on a quilt form the letter O.
Artist: Karen Aqua
(EKA: Episode 3375)

Muppets
Grover sells long and short hot dogs at the park. Mr. Johnson wants a hot dog, but Grover finds that he is out of both long and short hot dogs. To solve this, he switches clothes with Mr. Johnson.

Cartoon
Christopher Clumsy jumps over a hole and says that he fooled the viewer. He then walks into a wall.
(First: Episode 0440)

Muppets / Cast
Ruthie and some Anything Muppets sing "The Sneeze Song."

Animation
A girl plays in, on and under a sculpture.
(EKA: Episode 2898)




SCENE 6
Maria is almost finished with the story. By now, everyone is so glad to have their new garden, and Elmo wishes that everyone on Sesame Street could see it. Mumford poofs into view again, and is amazed at the amount of hard work they've all done, which he considers magic. They all reprise the "Beautiful World" song and congratulate each other.

SCENE 6
cont'd
At the end of the story, Gordon is now ready to read a story to Big Bird, Elmo and the kids, but first they want to write their own story about how they built the garden ... which is the very story that Maria has just finished reading in the garden.

Muppets
Elmo's World: Books
(First: Episode 3817)

SCENE 7
In the garden, Gordon makes sure there is no noise around, and finally reads the story to the group. Maria announces the sponsors, and the credits follow.
Notes
Ken Diego directed this episode.
The story Gordon was reading to his friends is "The Tale Of Peter Rabbit" by Beatrix Potter.
This episode features one of the final appearances of Biff and Sully. Over a decade later, the duo would make a non-speaking cameo in Episode 4204.