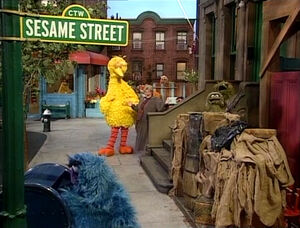 Picture
Segment
Description

Insert

As Sesame Street's residents greet the morning, Rosemary Clooney asks Hoots the musical question, "Can you tell me how to get to Sesame Street?"

Cartoon

A lost man in the desert asks a stranger for directions to the city. He builds a pretend city out of sand to show what it looks like. As it turns out, the stranger is an alien.
(EKA: Episode 0811)

Muppets

Zoe, driving her Zoemobile, announces the letter of the day

Film

The floating kids form an L.
(EKA: Episode 3427)

SCENE 1

Big Bird, Telly, Prairie Dawn and Baby Bear perform a play about a princess and an L for the grown-ups, then suggest that the grown-ups put on a show of their own

Film

Song: "Dressed Up," with film montage of kids wearing fancy clothes
(EKA: Episode 3427)

Muppets

Ernie's Show and Tell: A girl named Rebecca shows Ernie her crown.

Cartoon

A girl shows us her winter clothes

SCENE 2

The grown-ups (Gordon, Susan, Maria, Luis, Bob, Linda, Gina, and Alan) decide they're going to do a show, to the delight of Big Bird

Cartoon

At the Pride Day Ceremony, Donald is waiting to describe his proudest accomplishment, and is initially unsure of himself next to other impressive students. He finally proudly acclaims his achievement, tying his shoes all by himself.
Artist: John Korty
(EKA: Episode 2254)

Muppets

Zoe shows us her Zoemobile's horn and bell

Animation

"Step right up and find my voice!" A girl plays a carnival game in which she pushes buttons to identify which sound each animal makes.
(EKA: Episode 3736)

Film

Wegman's Weimaraners: Little Bo Peep
(EKA: Episode 3525)

Cartoon

CLOSED (sheep running through door)
(EKA: Episode 3743)

SCENE 3

Hooper's Store is closed as the grown-ups rehearse their show

Muppets

Zoe and Wolfgang the Seal demonstrate the concept of zero.
(EKA: Episode 3480)

Cartoon

A number zero feels sad, until his coach cheers him up.
(EKA: Episode 3754)

SCENE 4

The grown-ups present "Princess Gina's Last Laugh," about a king (Alan) whose daughter, the princess (Gina), never laughs. The king brings in laugh doctors Quackenbush and Bushenquack (Maria and Luis) to tickle Princess Gina, but she still doesn't laugh.

Cartoon

L for Laugh
Artists: Vincent Cafarelli & Candy Kugel
(EKA: Episode 2874)

Muppets

Worms in Space: Slimey and his fellow worm astronauts make a capital "L" and a lowercase "l."
(EKA: Episode 3780)

Film

A zydeco band plays "Bayou Pon Pon" while people dance and the townspeople of New Orleans wave at the camera.
(EKA: Episode 2621)

SCENE 5

The story of princess Gina continues, as the king brings in the Professors of Very Funny Faces (Bob and Linda), whose crazy faces fail to make the princess crack a smile.

Song

Lillian sings "Face Facts."
(EKA: Episode 2996)

Muppets

"One Banana" (Anything Muppets)
(EKA: Episode 2606)

SCENE 6

As the grown-ups' play continues, a man wearing a bathtub (Gordon) performs a silly rendition of "Rubber Duckie" with his wife (Susan), who is wearing a shower, but Princess Gina remains stoic. From the audience, Big Bird volunteers to teach her how to laugh, and his attempt is successful, as Gina and the rest of the grown-ups -- as well as the rest of the audience -- erupt into peals of laughter.

Muppets

SCENE 7

Big Bird, Baby Bear, Gina and Alan announce the sponsors.