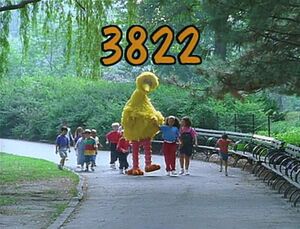 This episode guide is missing segments cut from Noggin's broadcast.
Picture
Segment
Description

SCENE 1

Big Bird loves the front steps of 123 Sesame Street, and resolves to sit on them all day.

Cartoon

A little girl shows the building and apartment where she lives -- both with the number 6.
(EKA: Episode 0982)

Muppets

Monsterpiece Theater: "The 39 Stairs"
(EKA: Episode 2342)

SCENE 2

Big Bird tries to find someone to join him on the steps, but Maria, Humphrey, Natasha, Linda and Barkley are otherwise occupied.




Muppets

Song: "A New Way to Walk," performed by The Oinker Sisters as introduced by Old MacDonald
(EKA: Episode 2455)

SCENE 3

Baby Bear can't join Big Bird on the steps because he's walking with his porridge as it cools off.

Muppets

Sesame Street Goes to Day Care: Telly and a boy named Andrew play a guessing game.

Cartoon

Jazzy alphabet around a city
(EKA: Episode 3314)

SCENE 4

Miles and Gabi join Big Bird on the stairs, and the three of them pretend to be flying planes, until Miles and Gabi leave Big Bird to sit alone again.

Song

"I'm a Little Airplane," with film of kids pretending to be airplanes.
(EKA: Episode 3307)

Cartoon

Autumn leaves form a capital "N" and lowercase "n"
(EKA: Episode 3114)

Celebrity

Maya Angelou and Natasha talk about N-words.

Cartoon

N / n paper fold
(EKA: Episode 3114)

SCENE 5

Luis can't sit with Big Bird because he has to go fix a garbage disposal. Tarah explains to Big Bird that her wheelchair prevents her from using the stairs... but she can't sit with Big Bird anyway because she has an appointment to race with her friends.

Animation

2's in space
(EKA: Episode 3713)

SCENE 6

Big Bird explains his lonely sitting problem to Gordon, who joins him in singing "If These Steps Could Talk." Hearing the song, the cast gathers around, including Susan, Maria, Luis, Gabi, Miles, Linda, Barkley, Rosita, Elmo, Grover, Tarah, and the kids. Big Bird is struck with an inspiration, and runs to his nest.

Animation

Finding N's on a computer screen
(EKA: Episode 3039)

Film

Alphaboy: Nibbling Noodles with Neighbor Nora
(EKA: Episode 3402)

Cartoon

N is for nose
Artist: Jeff Hale
(EKA: Episode 2176)

SCENE 7

Big Bird returns from his nest with Radar, whom he knows will sit with him. When he arrives at the steps, he finds all his friends sitting there, and they reminisce about how much the steps mean to them.

Muppets

Elmo's World: Books
(First: Episode 3820)

SCENE 8

The cast say goodbye from the steps.
Known Edits