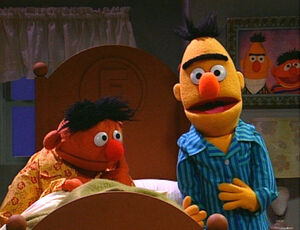 Elmo wants to hear a story, but all of the adults are too busy to spend time with him. Bob is teaching clarinet lessons, Alan is swamped with lunch orders, and Maria has too many toasters to repair. Maria encourages Elmo to make up his own story, so he imagines that he's the Royal Elmo, who's never too busy to help his friends on Sesame Street. But as the story continues, the Royal Elmo gets tired of all the requests, and he's too busy to play.
Finally, all of the adults are finished with their jobs, and they want to tell Elmo their stories. Elmo has to rush off and feed Dorothy, so he leaves Big Bird in his place.
Segments
Film: A class makes up a story about a fish named Billy, which is told through animation based on the kids' drawings. (EKA: Episode 3765)
Cartoon: An alien spins around Saturn's rings 18 times.
Cartoon: A boy learns to play his violin by practicing. (EKA: Episode 1736)
Leon Redbone sings "What Do They Do When They Go Wherever They Go?" (EKA: Episode 3370)
Cartoon: A boy imagines his room turning into a jungle.
Ernie can't sleep, because he's afraid of dark shadows and spooky things. Bert comforts him, and the two sing "Imagination" before falling asleep.
Cartoon: Three balloons take away two leaves one, and a ringing in the ears.
Animation: Airplanes carve the capital and lowercase S. (EKA: Episode 3240)
Cartoon: Ladies, birds, and fish march forward and backward. (EKA: Episode 3083)
Notes