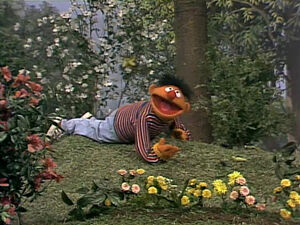 Big Bird, Prairie Dawn and Rosita follow an ant.
Segments
Cartoon: Young Chris Columbus explores the world of ants - and they, in turn, explore his house. (EKA: Episode 2916)
Film: Kids observe different types of bugs and flowers. (EKA: Episode 3696)
Film: Six kids dance on a playground to the same beat.
Elmo finds a large apple and wonders what letter "apple" starts with. Slimey pops out from the apple, holding a flag with the letter A on it. (EKA: Episode 3359)
Animation: Airplanes carve the capital and lowercase A. (EKA: Episode 3770)
Cartoon: An ant is pressured by his peers to finish the anthill all by himself, until he enlists the cooperation of the others. (EKA: Episode 2173)
Film: Looking for triangles in the city. (Maria voiceover) (EKA: Episode 2784)
Cartoon: A boy finds a set of doors with animals that make the wrong sound, and swaps the doors to correct them. (EKA: Episode 3023)
Animation: Kids and animals alternate in passing letters over themselves, in an alphabet song. (EKA: Episode 3740)