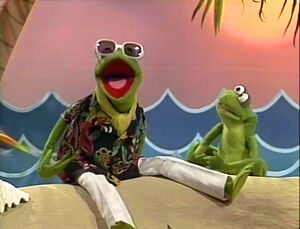 Oscar is in a terrible mood and tries to get the introductions for the letter and number of the day out of the way so he can be alone. Maria and others try to get him out of his mood.
Segments
Cartoon: Number Guy sings "How Many Birds Can Fit on This Wire?" One bird provides the answer.
Cartoon: D for Dance: Ladies on stage dance a can-can to the tune of "The Infernal Gallop" from Jacques Offenbach's Orpheus in the Underworld, the lyrics of which are all the letter D. (EKA: Episode 3499)
Animation: D for daring ... dazzling ... delightful ... dizzy ... dreaded ... dinosaur! (EKA: Episode 3735)
Wish You Were Here: Big Bird visits a Puerto Rican casita in East Harlem. He tries to find out what people do there, but everyone is too busy raising chickens, planting tomatoes, cooking and planning music to answer. (EKA: Episode 3066)
Ernie practices saying "Hola" as he repeatedly opens and shuts the door. To make him stop, Bert convinces him he's mastered it. Ernie starts to practice saying adiós instead. (First: Episode 3198)
Film: Children in a park throw balls up and down.