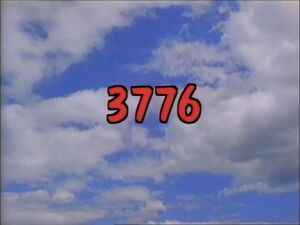 Picture
Segment
Description

SCENE 1

Elmo just got a drum from his cousin, and it makes him so happy that he vows never to stop beating it.

Song

"Happy Happiness," against footage of kids playing at a beach.
(EKA: Episode 3357)

Animation

V Limerick: A vulture makes valentines.
(EKA: Episode 3717)

Animation

Ornate Vs spin around as a song about them plays.
(EKA: Episode 2987)

Cartoon

V in Space
(EKA: Episode 0560)

SCENE 1
cont'd

Elmo continues to beat his drum.

Muppets

Caribbean Anything Muppets sing about "Caribbean Air."
(EKA: Episode 2977)

Film

Kids play bongo drums loud and soft.
(EKA: Episode 3098)

SCENE 2

Maria is looking forward to getting a lot of work done at the Fix-it Shop on this quiet day, until Elmo shows up with his drum. Elmo says he can't hear Maria when she speaks. She informs him that it's because he's drumming so loud, and shows him how to play it soft ... but he decides that he likes it loud better.

Cartoon

Gordon narrates "The Maestro Plays," a story featuring adverbs.
(EKA: Episode 3595)

SCENE 2
cont'd

Elmo walks backwards while playing his drum.

Muppets

Muppet & Kid Moments: Grover and Samantha try talking to the moon.

Animation

The King of Eight
(EKA: Episode 0270)

Film

Milo Counting: 8
(EKA: Episode 3554)

Animation

Counting 8 harvesters
(EKA: Episode 2981)

SCENE 2
cont'd

Elmo walks forwards while playing his drum.

Film

A trip to an African dance school.
(EKA: Episode 3354)

Cartoon

A boy imagines his room turning into a jungle.
Artist: Karen Aqua
(EKA: Episode 2987)

SCENE 3

Big Bird and the Birdketeers are about to sing the alphabet song, but find it hard while Elmo's beating his drum. Big Bird and Elmo come to an agreement that Elmo can drum along while they sing. Elmo leaves, still promising to keep drumming forever.

Film

Wegman's dogs form all the letters of the alphabet.
(EKA: Episode 3764)

SCENE 3
cont'd

Elmo walks back and forth while beating the drum.

Cartoon

Name That Sound: identify animal sounds.
(EKA: Episode 3689)

Muppets

While shopping in a China store, Simon Soundman helps Old McDonald find his lost animal - however his animal sounds attract animals to barge into the fragile store.
(EKA: Episode 3068)

Cartoon

Ten little animals in a department store elevator accumulatively get off at each floor.
(EKA: Episode 2932)

SCENE 3
cont'd

Elmo walks up and down the steps while beating the drum.

Film

A girl wants to learn a playground rhyme after watching some other girls do it, so one of them teaches her.
(EKA: Episode 2503)

Cartoon

A parade of toys illustrates first and last.
(EKA: Episode 2876)

SCENE 4

Elmo passes by Hooper's and gets the attention of Carlo, who shows him that there are other rhythms to drum. Elmo still prefers his own, and walks off.

Film

A rhythm is made of breaking eggs, door slams, cans dropping, ice, and feet stepping.
(EKA: Episode 3682)

Muppets

Zoe sings "My Name Is Zoe."
(EKA: Episode 3387)

Animation

Wooden shapes group themselves by color, then regroup by shape, then assemble themselves into a rocket ship.
(EKA: Episode 3286)

Film

A girl narrates a segment about an astronaut who visited her school and answered kids' questions.
(EKA: Episode 3696)

SCENE 4
cont'd

Still going! Long-lasting Elmogizer batteries keep going and going ...

Cartoon

Norris Walnut recites a poem about clouds. (new music added)
Artist: ArtistMike
(EKA: Episode 3540)

Muppets

Ernie sings "Little Plant."
(EKA: Episode 2174)

Cartoon

Beginning / middle / end: a beatnik follows a trombonist's note through a long horn.
(EKA: Episode 3710)




SCENE 5

Elmo repeats that nothing will make him stop drumming, then he notices Baby Bear with a porridge ice cream cone. Elmo realizes he can't have ice cream and play his drum at the same time, so Carlo and Baby Bear tell him that he has to make a choice. Soon, however, Baby Bear decides to help Elmo by holding an ice cream cone to Elmo's mouth while he drums.

Cartoon

A seal and a bear fight over a circus ball, but learn to cooperate.
(EKA: Episode 3427)

Muppets / Celebrity

The Count counts how many times Jock Soto and Lourdes Lopez spin around. Finally, they spin him around.
(EKA: Episode 3656)

Cartoon

Ballet-dancing yaks show their fronts and backs.
(EKA: Episode 3056)

Film

Kids find a wild letter V in the jungle.
(EKA: Episode 3689)

Cartoon

Consonant Sound: V, violin
Artist: Jeff Hale
(EKA: Episode 1285)

Film

Floating kids make the letter V.
(EKA: Episode 3133)

SCENE 5
cont'd

Elmo walks around in a circle, drumming faster and faster, until he falls over.

Cartoon

Christopher Clumsy jumps over a hole, and falls into another hole.
Artist: Cliff Roberts
(EKA: Episode 1121)

Muppets

On a tropical island, Bert, Cookie Monster, Grover and a Caribbean Anything Muppet back-up band sing "Take a Rest".
(EKA: Episode 3107)

Cartoon

An alien comes across a pair of tree trunks; one with multi-colored leaves, the other without. He finds and grows leaves to mount on the other tree, then strings a hammock between the two.
(EKA: Episode 2363)




SCENE 6

Maria finally finishes fixing a lot of items, when a very tired Elmo shows up, still not wanting to stop drumming. She picks him up, and he falls asleep in her arms. She announces the sponsors and reports the status of Slimey's spaceship, then notices that Elmo can even drum in his sleep!

COMING SOON

Coming soon on Sesame Street: "What's the Name of That Song?"