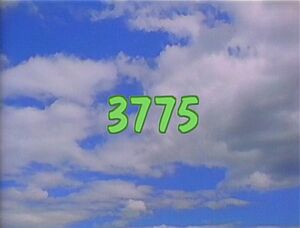 Picture
Segment
Description




SCENE 1
Snuffy's mommy leaves Snuffy and Alice in the hands of Gordon, while she goes off to a meeting. Gordon offers Alice the choice of either blocks or a puzzle to play with. She chooses the blocks, but right when Snuffy chooses the puzzle, she decides she wants the puzzle instead.

SCENE 1
cont'd
Gordon tells Alice she can't have both the puzzle and the blocks, and she angrily stomps and jumps, shaking the ground. Snuffy says she's going through the "Snuffle Twos," and suggests they ignore her, but it's hard to do so when she's causing an earthquake!

Film
A film insert about washing elephants at the Bronx Zoo. The song "Splish Splash" is used in part of the segment.
(EKA: Episode 2096)

Cartoon
Snacks on Parade: The Raisin
Artist: Bruce Cayard
(EKA: Episode 2269)

Muppets
Waiter Grover
Mr. Johnson wants a hamburger, but Grover strongly suggests that he order the tomato surprise instead. Mr. Johnson relents and asks for the tomato surprise, only to find that it means a giant, talking tomato will be dining with him. Surprise!
(First: Episode 3756)

Animation
Luxo Jr. examines a box. A smaller lamp pops out of the box, demonstrating "surprise."
(EKA: Episode 2861)

Muppets
Baby Tooth and the Funky Funk: "Follow the leader" dance with Mark Morris
Part 1
(First: Episode 3615)

Animation
W for water, wind, wave and wet
(EKA: Episode 3287)

Film
A man dances in a W costume on the beach.
(EKA: Episode 3665)

Cartoon
Speech Balloon: W for water
(First: Episode 0062)

Muppets
Baby Tooth and the Funky Funk: "Follow the leader" dance with Mark Morris
Part 2
(First: Episode 3615)
Cartoon
A boy acts out his feelings as animals. ("There's a zoo in me!") (new sounds added)
(EKA: Episode 0796)

Muppets
Baby Tooth and the Funky Funk: "Follow the leader" dance
Part 3
(First: Episode 3615)




SCENE 2
Alice continues to throw her tantrum, catching the attention of Miles. Gordon recalls what he went through every time Miles threw a tantrum as a toddler, and they all try singing the alphabet song to Alice, which makes her happy again. When Miles leaves, Gordon suggests they all go to the park to play Snuffleball, and Alice wants him to carry her. Gordon can't do it, which makes Alice throw another earth-shattering tantrum!

Song
"The African Animal Alphabet"
(First: Episode 3396)

Film
Shapes vibrate as girls beat on their drums.
(EKA: Episode 2876)

Cartoon
A baby climbs up the stairs all by himself.
(EKA: Episode 1736)

Muppets
Zoe, Prairie Dawn, Rosita and Betty Lou sing "Girl of the World."
(First: Episode 3744)

Cartoon
Characters on a quilt form the number 19.
Artist: Karen Aqua

Film
Kid mural painting #19

Animation
Abstract count to 19
(EKA: Episode 2855)

Muppets / Celebrity
Celine Dion sings "Happy to Meet You."
(First: Episode 3739)

Cartoon
A schoolyard of gloves invites other gloves to join them.
(EKA: Episode 1575)

Film
Jaws spoof with the letter W.
(EKA: Episode 3454)

Cartoon
W for Willamina (new music added)
(EKA: Episode 0950)

Film
Alphaquest: W
(EKA: Episode 3057)

Muppets
Sesame Street News Flash
Kermit the Frog talks to people waiting in line for a football game being held at the SuperGame Stadium. A woman explains why she is last in line, and points out that Kermit is actually last, although Kermit insists that he is not in line. He goes to the front of the line and finds out that the first two people in the line are in a disagreement over which of them is first in line. The gate opens, and everyone walks all over Kermit.
(EKA: Episode 1448)

Cartoon
A face is drawn, but the mouth complains when it is drawn last.
(EKA: Episode 2623)

SCENE 3
Alice won't give Snuffy his ball back, and throws a fit when Gordon tells her she has to take turns. Snuffy says it's his turn, and throws a tantrum of his own, which makes Alice want to give him the ball and apologize. They make up, and resume their game of Snuffleball.

Cartoon
Actor demonstrates anger towards casting director - literally!
(EKA: Episode 2061)

Muppets
Ernie and Bert:
Ernie and Bert play "The Feelings Game" -- much to Bert's chagrin.
(EKA: Episode 2356)

Animation
"Toothpaste ... coming soon to a mouth near you!"
(EKA: Episode 2876)

Song
"Toothpaste Factory Rap"
(First: Episode 3266)

Cartoon
Where does the cow live? (Maria voiceover)
(EKA: Episode 3427)

Muppets
"The Sneeze Song," with Kathleen the Cow with a Pig, a Sheep, and Fred the Wonder Horse.
(EKA: Episode 2784)

Film
What sound does a cow make?
(EKA: Episode 3403)

Muppets
Monster on the Spot: Play of the Day
Telly watches and comments as Melissa asks three other kids if she can play catch with them.
(EKA: Episode 3580)

Cartoon
A purple elephant tries to get 10 peanuts in his trunk at once, but can't, so he smushes them into peanut butter instead.
(EKA: Episode 2987)

Film
Wegman's dogs have a check-up at the doctor's office.
(EKA: Episode 3739)

Cartoon
"Mi casa es su casa." (new music added)
(EKA: Episode 1037)

Muppets
Cookie Monster and Zoe demonstrate "inside" and "outside"; Cookie takes a cookie outside of the box, and puts it inside his mouth and tummy.
(First: Episode 3593)

Animation
In a painting, a man flips a coin, and it flies in and out of buildings.
(EKA: Episode 3291)

Song
"Playground Map Song"
(EKA: Episode 2680)

Cartoon
A boy demonstrates why his dog's name is Happy.
(EKA: Episode 0969)




SCENE 4
Snuffy and Alice are still playing Snuffleball when their mommy arrives. She acknowledges that Alice is going through the "Snuffle Twos," but Gordon says she did fine. Mommy agrees to leave her kids in Gordon's care every week from now on. Once they leave, Gordon announces the sponsors and reports the status of Slimey's spaceship. The Snuffleupaguses pass Mr. Handford and say goodbye, and the credits roll.

COMING SOON
Coming soon on Sesame Street: Elmo walks back and forth, beating a toy drum.
Notes
Ad blocker interference detected!
Wikia is a free-to-use site that makes money from advertising. We have a modified experience for viewers using ad blockers

Wikia is not accessible if you've made further modifications. Remove the custom ad blocker rule(s) and the page will load as expected.