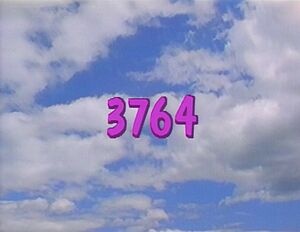 Picture
Segment
Description




SCENE 1
Rosita and Lexine are playing checkers in front of the Furry Arms Hotel, when Celina emerges with Barkley, who she's looking after today while Linda runs errands. They all decide to cooperate in taking care of him, and Lexine suggests teaching him some new tricks. Celina shows him the following segment ...

Video
Fay demonstrates addition by placing 3 balls on a table.
(EKA: Episode 2615)

SCENE 1
cont'd
After the segment finishes, Celina tries to get Barkley to do what Fay just did. She sets three balls on a table in front of Finders Keepers, and Lexine puts one of them on the ground, expecting Barkley to pick it up and put it back on the table. Barkley doesn't, so Lexine shows him how to do it. Celina puts the ball in his mouth, but he runs off with it instead. Rosita then realizes that Barkley just did a subtraction trick (three balls minus one equals two), and they all go chasing after Barkley.

Song
"Three Rabbits" minus two equals one.
(EKA: Episode 3163)

Muppets / Celebrity
Elmo thinks that Whoopi's skin is a very pretty brown. Whoopi likes Elmo's soft red fur. Elmo admires Whoopi's bouncy hair, too. Elmo suggests that they trade, but Whoopi says that they can't -- it doesn't come off. But even if she could trade, she wouldn't want to. She likes her skin and her hair, and she wants to keep it. Elmo says that he wants to keep his fur, too.
(First: Episode 2746)

Song
Kevin Clash sings "Skin."
(First: Episode 2749)

Muppets
Cookie Monster is about to eat a cookie, when a sad-looking girl approaches and stares at him. He tries to eat the cookie, but can't do it. He breaks the cookie in half and shares the cookie with the girl. He eats his half of the cookie. When the girl eats her half, she eats it just like Cookie Monster.
(EKA: Episode 0730)

Cartoon
A seal and a bear fight over a circus ball, but learn to cooperate.
Artist: Frank Gresham
(EKA: Episode 3295)

Film
A gymnastics team practices tricks for the circus.
(First: Episode 2889)

SCENE 2
Celina comes back with Barkley and congratulates him on the trick he did. She then points his attention to the next segment ...

Film
Wegman's dogs form all the letters of the alphabet.
(First: Episode 3266)

SCENE 2
cont'd
The gang thinks Barkley wants to make a letter of the alphabet, but he just runs around instead.

Animation
Letter Garden: B
(EKA: Episode 3035)

Cartoon
Speech Balloon: B for Bug (edited)
(EKA: Episode 2621)

Song
"B is for Bubble" (remake)
(First: Episode 3266)

Muppets
Grover recites a poem about a bubble.
(EKA: Episode 3155)

Film
A girl floats around in a circle.
(EKA: Episode 3130)

Animation
The word DOG is spelled out over a wiener dog.
(EKA: Episode 3326)

SCENE 3
Celina decides to show Barkley a different kind of dog, as seen in the next segment ...

Song
"Cow Dog Song"
(EKA: Episode 0796)

SCENE 3
cont'd
After watching the aforementioned segment, Barkley lies down and starts whimpering. Linda comes by and is confused when she sees him this way. She tries cheering him up by giving him a dog biscuit and tickling his tummy, but neither of those things work. Celina explains what happened, and Linda realizes why Barkley feels this way: he is a sheep dog, and watching the cow dog round up the cows made him want to round up some sheep. All they need to make him feel better is some sheep ...

Cartoon
A baby demonstrates 'happy,' 'surprised' and 'sad.'
(EKA: Episode 3423)

Muppets
"Big Kids Cry"
(EKA: Episode 1710)

Film
In Trinidad, Asha and her friends practice and dance on stilts in preparation for a carnival.
(EKA: Episode 3427)

Animation
Masked March #16
(EKA: Episode 3372)

Animation
Growing Numbers #16
(EKA: Episode 3027)

Cartoon
"Sixteen Blues"
(EKA: Episode 2755)

SCENE 4
Linda brings some kids over to Barkley so they (along with Lexine) can pretend to be sheep. The kids all baa while Barkley chases them, and he feels a lot better afterwards. Celina becomes inspired, and leads everyone into her dance studio.

Cartoon
Is no one afraid of The Big Bad Wolf?
(EKA: Episode 2405)



Muppets
The Count's main jumping-over-the-bed sheep quits on him, so he calls the "24 Hour Emergency Counting Service". A reluctant deliveryman in sheep's clothing laments, "It's not an easy way to make a livin' ..." (ending edited)
(EKA: Episode 2122)

Muppets
Elmo pops up: "Make that SIX pretend sheep! Baa! Baa!"
(EKA: Episode 3417)

Animation
Cecille sings "Up Down, In Out, Over and Under."
(First: Episode 2746)

Film
Children demonstrate "up" and "down" with balls.
(EKA: Episode 3665)

Cartoon
Letter B/b (bouncing circles)
(EKA: Episode 2222)

Film
Kid jungle explorers spot a wild letter B.
(EKA: Episode 3508)

Animation
Pencil Box B / b
(EKA: Episode 3040)

SCENE 5
In the dance studio, Celina consults Linda on how to sign such dog commands sit, stand and roll over, and teaches the kids how to do them as well. This is all a part of her plan to create a dance for both kids and dogs ...

Film
A boy signs the word cat, and morphs into one.
(EKA: Episode 3323)

Cartoon
A dog tries desperately to meow, but can only bark.
(EKA: Episode 1613)

Muppets
Big Bird plays a guessing game with the viewer, by giving clues in the form of sounds.
(EKA: Episode 3451)

Song
"I Put My Leg in My Pants"
(EKA: Episode 3427)

Cartoon
A monster sees a box that keeps opening and closing, saying "Abierto" and "Cerrado"
(EKA: Episode 3154)




Insert
"Professor Television" (Bill Irwin) tries to demonstrate open and closed, but his efforts backfire.
(EKA: Episode 3656)

Cartoon
A man asks the viewer to circle him, draw a line to him, follow him with arrows, etc.
(EKA: Episode 2058)




SCENE 6
Celina lines up all the kids so the dance can begin. Rosita turns on the boombox, and Linda watches in amazement as Celina conducts Barkley and the kids by signing the commands. Everyone gives Barkley a hug while Rosita announces the sponsors.

SCENE 6
cont'd
"And Slimey's spaceship is still on its way back to Sesame Street!"

COMING SOON
Coming soon on Sesame Street: Big Bird goes fishing with Colin and Marlee, hoping to catch a fish of his own, but so far he only catches a boot ...