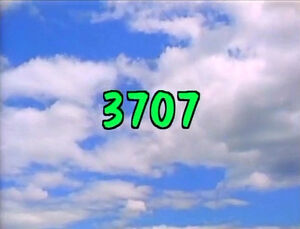 Picture
Segment
Description




COLD OPEN
Big Bird wonders why Maria and Luis are rushing their stuff into the Fix-It Shop. They explain today's "Monster Day," the day where monsters celebrate being monsters. A blue monster (David Rudman) lands next to the work table and begins celebrating as Maria and Luis lock themselves inside.

SCENE 1
Elmo, Rosita, Frazzle, Merry and other monsters appear, singing the Monster Day song. Big Bird thinks he's going to enjoy today. (YouTube)

Cartoon
Are you the monster that ate the television?
(EKA: Episode 2617)




Insert
"Professor Television" (Bill Irwin) tries to demonstrate near and far, with help from Maria's voice.
(EKA: Episode 3683)

Cartoon
A girl notices some footprints near and far to her. They belong to a giant purple bird.
Artist: Fred Garbers
(EKA: Episode 3134)

Muppets
Ernie and Bert: Ernie turns on the radio to hear his favorite exercise show, Get Moving. He engages the viewer to do all the exercises he does, such as touching toes and jumping. Bert joins in, and has so much fun jumping that he doesn't notice that his favorite program, Pigeons in the News, is coming on.
(EKA: Episode 1025)

Song
"Jump" (soul)
(First: Episode 3136)

Cartoon
Buttons ride a rollercoaster "up and down."
(EKA: Episode 3239)

Film
A boy draws a picture of his friend, Kerry.
(EKA: Episode 2776)

Muppets
Baby Tooth and the Funky Funk: Jug band dance
Part 1
(EKA: Episode 3581)




SCENE 2
Big Bird asks Rosita what monsters do on Monster Day. The monsters respond by bouncing the letter of the day. Since today's letter is B, they all bounce off a giant rubber wall with a "B" on it. Big Bird thinks it looks fun...if you're a monster.

Cartoon
B for banana and ballerina
(EKA: Episode 2615)

Song
"B is for Bubble" (remake)
(First: Episode 3266)

Muppets
Grover recites a poem about a bubble.
(EKA: Episode 3155)

Song
Hoots the Owl sings "This is How We Take a Bath."
(EKA: Episode 3216)

Cartoon
Water travels from a cloud to a river, into a reservoir, and through pipes, and finally ends up in a bathroom sink.
(EKA: Episode 3009)

Muppets
Zoe sings "My Name Is Zoe."
(EKA: Episode 3387)

Cartoon
A real Indian boy tells two boys who are playing Cowboy and Indian that Indians don't say "ugh". The other kids tell him that they heard the expression on TV.
(EKA: Episode 0812)

Muppets
Baby Tooth and the Funky Funk: Jug band dance
Part 2
(EKA: Episode 3581)

SCENE 3
Big Bird laments to Mr. Handford about feeling left out of the Monster Day festivities, when the monsters arrive. Mr. Handford has prepared the traditional Monster Day 7-Layer Cake and they all count the seven different flavored-layers. They reveal the significance of the 7 isn't the layers - it's the number of seconds they have to eat it! They dine and dash, leaving Big Bird without a slice.

Cartoon
Rap #7
(EKA: Episode 2506)

Muppets
Count von Count and The Countess sing about "Seven."

Cartoon
A clam tells a fisherman why he's not catching any fish: he pulled all the plants out of the pond. (new music and sound effects added)
(EKA: Episode 0851)

Film
Cheri goes fishing with her abuelo.
(EKA: Episode 2784)

Muppets
"Big Round Nose"
(EKA: Episode 2395)

Cartoon
A cartoon man (voiced by Bob Arbogast) is irritated to find that he has a succession of animal noses. (new music and sound effects added)
(EKA: Episode 0810)

Muppets / Celebrity
Telly makes sure Dennis Franz knows the alphabet, and offers to be his "alphabet partner."

Cartoon
Two girls sing a reggae rendition of the alphabet.
(EKA: Episode 3269)

Muppets
Bip Bipadotta sings about "Air."
(EKA: Episode 2534)

Cartoon
Counting to 10
Artist: Keith Haring
(EKA: Episode 3104)

Film
A boy in Jamaica goes to school and attends drum class.
(EKA: Episode 3145)

Cartoon
A girl describes why she likes the color black.
Artist: Lisa Crafts
(EKA: Episode 3105)

Muppets
After fighting with each other, the Two-Headed Monster reads the word "Love" and forgets their feud.
(EKA: Episode 1282)

Animation
The word LOVE is formed on paper.
(EKA: Episode 3586)

SCENE 4
Big Bird tells Lexine how he feels, when the monsters appear to give a big hug to someone special. Big Bird thinks it's him, but is revealed to be Lexine! Big Bird storms off in a huff.

Song
"You're Important"
(EKA: Episode 3396)

Muppets
Cookie Monster visits the local bakery to talk about "important". He shows off the different kinds of cookies that are important to him.
(EKA: Episode 3235)

Animation
B for bounce, break, blue, boat
(EKA: Episode 3061)

Film
B for ball, bat, base and baseball.
(EKA: Episode 3266)

Cartoon
The Typewriter: B for Ball
(EKA: Episode 1090)

Muppets
Zoe, Telly, and Prairie Dawn sing "That's the Way I Read."
(First: Episode 3651)

Film
A girl narrates a segment about nature through winter and spring.
(EKA: Episode 2606)

Cartoon
A red scribble demonstrates out and in.
Artist: Fred Garbers
(EKA: Episode 3128)

SCENE 5
Elmo, Rosita, Frazzle, and the blue monster find a sad Big Bird at the park. Elmo thinks Big Bird can join their festivities by pretending he's a monster. The rest of the monsters join them and they all sing the Monster Day song. Maria announces the sponsors as they party down.

SCENE 5 cont'd
"And Slimey's spaceship is still on the way to the moon!"

COMING SOON
Coming soon on Sesame Street: Baby Bear pulls his tie from a washtub...it's shrunk!
Notes
Assorted scenes from this episode have been used in international versions of the show as stand-alone Muppet bits, including Sesamstrasse and Plaza Sésamo.
Ad blocker interference detected!
Wikia is a free-to-use site that makes money from advertising. We have a modified experience for viewers using ad blockers

Wikia is not accessible if you've made further modifications. Remove the custom ad blocker rule(s) and the page will load as expected.