Episode 3705
Talk

0
27,712pages on
this wiki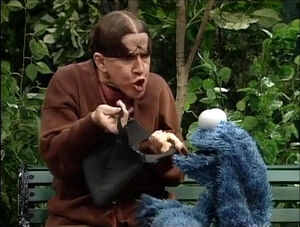 Gina is teaching the kids how to count backwards. Baby Bear is having a hard time so Goldilocks takes it upon herself to help him.
Segments
Song: A female voiceover sings about the food that keeps being taken away to make 0. (EKA: Episode 3026)
Gladys Ormphby is approached by Cookie Monster, who begs for cookies. Gladys sharply insists that she has zero cookies, so Cookie Monster eats her pocket book instead, then hungers after her sweater and hairnet.
Cartoon: A girl's friend tries to guess how many elephants she saw at the zoo today; the answer is zero. (EKA: Episode 3636)
Cartoon: U knocks on the door of P's apartment. When she answers the door, they go UP.
Animation: A group of round crayons draws a house, and is hesitant to let a square yellow crayon join, until it draws the sun. They all cooperate to make a rainbow. (EKA: Episode 3105)
Film: Footage of kids playing professions, alternating with footage of analogous real-life jobs. (EKA: Episode 2882)
Cartoon: A boy finds a set of doors with animals that make the wrong sound, and swaps the doors to correct them. (EKA: Episode 3023)