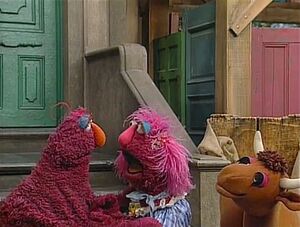 Telly is excited that his cousin Tammy is visiting him. He is also worried that she won't have a good time. When Tammy arrives with her cow Myrtle, she is scared and nervous. The visit gets off to a rocky start and Telly and Tammy panic and blame themselves for being the worst cousins. Gabi and Big Bird reassure Telly that he can show Tammy a fun time so he tries again and all is well.
Segments
Cartoon: K for king, kiss, key
Cartoon: An old woman emerges from the pouch of a bouncing kangaroo. She proclaims, "K! Kangaroo!" (EKA: Episode 0142)
Cartoon: A man talks about going to the city, without noticing he's walking right through it. (EKA: Episode 1071)
Cartoon: Two viewers with Picassoesque facial features in an art gallery critically examine the portrait of a viewer. (EKA: Episode 3524)
Film: A boy who lives in the Congo (in Africa) narrates a film of the kinds of games he and his peers play. (EKA: Episode 2687)
Muppet & Kid Moments: Samantha and Grover talk about the moon. Samantha asks if Grover has ever wondered about talking to the moon, so they both try. When the moon doesn't answer they decide it is better to look at the moon.
Film: A rhythm is made of breaking eggs, door slams, cans dropping, ice and feet stepping. (EKA: Episode 3682)
Cartoon: The word OPEN is spelled out in jack-in-the-boxes. (EKA: Episode 3656)
Cartoon: Letters appear over a sky-view of a neighborhood (EKA: Episode 3314)
Film: A boy from the city narrates how he visits his friend Adrian in the country.
Cartoon: A poem about Hannah and Anna who lead similar lives in the city and the country. (EKA: Episode 3073)