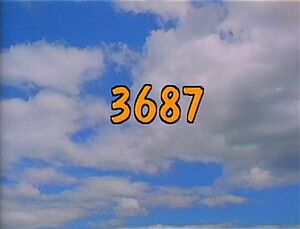 Picture
Segment
Description

SCENE 1
Bob is taking care of Barkley today. At the same time, Zoe is pretending to be a dog. She does everything Barkley does, including lean on Bob as he reads his newspaper.

Cartoon
Suzie Kabloozie sings about the things she can imagine herself doing "In My Head."
(First: Episode 3526)

Film
Children on a playground form the letters of the alphabet. (new music added)
(First: Episode 1966)

Muppets
Big Bird observes how balloons can make one happy. Telly emerges, looking sad, with a deflated balloon, so Big Bird gives his balloon to Telly.
(EKA: Episode 3429)

Cartoon

Two art gallery patrons with Picassoesque facial features critically examine the portrait of a viewer.
Artist: Mo Willems
(EKA: Episode 3442)

SCENE 2
Zoe wishes she could be a real dog, when Barkley's Fairy Godperson appears to grant Barkley's wish of Zoe becoming a dog so the two can play. With a song, he magically turns Zoe into a dog, which makes Bob angry. The Fairy Godperson has to poof away and tells Barkley to call if he needs anything. The two dogs race down the street with Bob following.

Film
A girl in a classroom draws a picture of her dog Puck, and goes over the care required to keep a pet. A Bert and Baby Fozzie plush can be seen in the her bedroom.
(EKA: Episode 2853)

Muppets
Grover takes several dogs for a walk, explaining that dogs need exercise as much as people do.
(First: Episode 2734)

Song
"Jump" (soul)
(First: Episode 3136)

SCENE 2 cont'd
Zoe-Dog, Barkley and Bob run past Oscar's trash can.

Cartoon
The letter X (re-recorded audio)
(EKA: Episode 1447)

Film
The letter X dances at the beach.
(EKA: Episode 3588)

Cartoon
The letter X appears on-screen.
(First: Episode 2779)

SCENE 2 cont'd
The trio now runs past the Furry Arms Hotel.

Cartoon
Dr. Annie Eyeball, PhD., looks at breathing.
Artist: Bruce Cayard
(EKA: Episode 2615)

Celebrity
Robin Williams demonstrates with his shoe how to tell if something is alive.
(First: Episode 2749)

Cartoon
Counting to 10
Artist: Keith Haring
(First: Episode 3042)

Song
"Doing the Family Thing"
(EKA: Episode 3180)

Cartoon
Snacks On Parade: The Raisin
Artist: Bruce Cayard
(EKA: Episode 2212)

SCENE 3
Bob chases the dogs to Hooper's Store and explains the situation to Mr. Handford and Tarah. She suggests they use doggy treats, which attracts a slew of other dogs. There are no more by the time Zoe and Barkley show up, so the chase resumes.
Cartoon
"Name That Food" game show hosted by Don Carrot
Artist: Elwood Smith
(EKA: Episode 2096)

Song
Kevin Clash sings "The Pasta Song."
(First: Episode 3137)

Cartoon
A boy counts down to 0 as he eats his soup.
(EKA: Episode 2283)

Muppets
Ernie is in a counting mood, and decides to count all of the cookies in a box of them. Cookie Monster overhears this and asks if he can have all of the cookies after they are counted, and Ernie agrees. But after opening the box, Ernie finds that there are 0 cookies in it. Ernie has another box, but it also has 0 in it. Ernie then remembers that he put all of the cookies into a cookie jar, and starts to count, but Cookie Monster impatiently eats all of the cookies before Ernie can finish counting.
(First: Episode 2586)

Cartoon
A girl's friend tries to guess how many elephants she saw at the zoo today; the answer is zero.
(EKA: Episode 3609)

SCENE 3 cont'd
Bob briefly rests on a bench as he chases the dogs past the playground.

Cartoon
A dog tries desperately to meow, but can only bark.
(EKA: Episode 1613)

Song
"Washin' the Dog"
(First: Episode 3020)

SCENE 4
Gina shows the word of the day - DOG - and is met with several dogs. She notices a familiar-looking orange dog with Barkley. Bob tries to quickly explain what's happened before running after the dogs again.

Cartoon
The word DOG is spelled out over a weiner dog.
(EKA: Episode 3326)

Muppets
Elmo and Telly sing "Baby Say It Loud", a silly song about a silly cow and a silly duck.
(EKA: Episode 3611)

Film
Two girls walk on an island together, and a map of the island is shown.
(EKA: Episode 2741)

Cartoon
Little Red Riding Hood uses a map to get to Grandma's house.
(EKA: Episode 2750)

SCENE 5
Linda arrives and Bob explains what's happened. Linda tells Barkley in sign language to call his Fairy Godperson, who doesn't respond when he barks.

Film
William Wegman's dogs form the letter X and demonstrate an X-ray.
(EKA: Episode 3659)

Muppets
Harvey Kneeslapper: X Marks the Spot! (new sound effects added)
(EKA: Episode 0560)

Cartoon
The Typewriter gets a check-up.
(EKA: Episode 0893)

Muppets
Kermit shows what's inside of Herry Monster using the X-ray machine.
(EKA: Episode 1974)

Song
"We Got the Power!" - a hip-hop song about computers
(EKA: Episode 3058)




SCENE 6
The Fairy Godperson appears, on his lunch break. Barkley makes his wish and Zoe is returned to normal. She heads home for a biscuit and the Fairy Godperson magically announces the sponsors.

COMING SOON
Coming soon on Sesame Street: Four friends sing about things that they love.