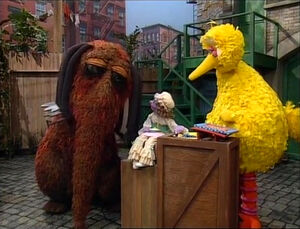 Big Bird presents Little Miss Muffet to perform her nursery rhyme. But, the spider doesn't arrive, forcing them to improvise. First, Snuffy tries to fill the role of the spider. Later, Elmo poses as the spider (wearing some special, eight-legged swim goggles). Miss Muffet can't be afraid, as she finds Elmo much too cute and starts hugging him.
Segments
Ad blocker interference detected!
Wikia is a free-to-use site that makes money from advertising. We have a modified experience for viewers using ad blockers

Wikia is not accessible if you've made further modifications. Remove the custom ad blocker rule(s) and the page will load as expected.