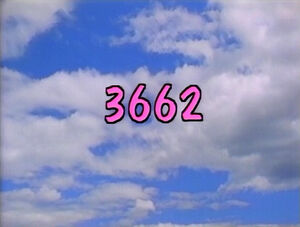 Picture
Segment
Description




SCENE 1
Humphrey and Ingrid notice Natasha is fidgeting and rubbing her head and have tried everything to find out what's wrong. Gabi suggests they take off her bonnet and they discover two bumps on Natasha's head. The proud parents reveal her baby horns are coming in! They add the process is similar to baby teeth, only monster horns come in just one whole day.

Cartoon
In a circus setting, a girl becomes excited about getting her first loose tooth.
Artist: Steven Fonti
(EKA: Episode 3266)

Song
"Take Care of That Smile"
(EKA: Episode 2745)

Muppets
Elmo sees a butterfly, and wants to give it a kiss.
Part 1
(First: Episode 3658)

Cartoon
Dinah from South Carolina exchanges letters with her friend Ling Lu in China.
Artist: ArtistMike
(EKA: Episode 2727)

Film
Chinese kids practice tricks at an acrobat school.

Muppets
"Pond Full of Fish"
(EKA: Episode 2840)

Cartoon
"Water Conservation": Frank the fish calls Carl and tells him not to leave the water running while brushing his teeth, otherwise the lake will be dry.
Artist: Peter Chung
(EKA: Episode 2746)

Muppets
Elmo continues chasing the butterfly.
Part 2
(First: Episode 3658)




SCENE 2
Natasha's horn have grown bigger and Humphrey explains some monsters get horns, while others don't. The parents consult Dr. Splotch's Everything You Wanted to Know About Baby Horns...But Had to Ask Me Because You Don't Have a Clue and I Do. The book suggests they play a game with Natasha to keep her mind off how uncomfortable the horns are at first. Humphrey plays a round of "One of These Monsters" with a picture of himself and his horned siblings.

Animation
"Animal Books"
Artist: Steve Segal
(EKA: Episode 3396)

Film
Wegman's dogs: Little Miss Muffet deals with a spider.
(EKA: Episode 3449)

Muppets
Elmo continues chasing the butterfly, vowing not to give up.
Part 3
(First: Episode 3658)

Cartoon
Pencil box I/i
(First: Episode 2890)

Animation
I / i candles
(EKA: Episode 3107)

Cartoon
Shooting stars form the letter I/i.
(EKA: Episode 2291)

Muppets
Jimmy is upset about moving to a new house, but Hoots the Owl shows up and sings "Things Are Always Changing."
(First: Episode 2937)

Film
A girl uses an instant camera to take pictures of her friends, who demonstrate several emotions.
(EKA: Episode 3582)

Muppets
Elmo notices that the butterfly is chasing him now.
Part 4
(First: Episode 3658)

SCENE 3
Gabi flips through the book as Natasha begins feeling uncomfortable again. The book now suggests they make silly noises and faces, but that doesn't work. Gabi skips to chapter 10, which is all about the "Monster Baby Horns Coming Out Party." The photo in the book is enough to make Natasha happy.

Cartoon
"Ooh What a Fabulous Party"
Artist: Sally Cruikshank
(First: Episode 3006)

Muppets
Telly and Rosita demonstrate next to.
(First: Episode 3369)

Song
"Reach Your Hand Up High"
(EKA: Episode 2750)

Animation
I / i Gregorian Chant
(EKA: Episode 3342)

Muppets
Monsterpiece Theater: The King and I
(EKA: Episode 2695)

Animation
Ornate I's swing through the air to a song.
(First: Episode 2921)

Muppets
Elmo continues chasing the butterfly.
Part 5
(First: Episode 3658)




Muppets / Celebrity
"A New Way to Walk"
Celebrity version
(EKA: Episode 3233)

Film
The sign flashes WALK and DON'T WALK.
(EKA: Episode 3272)

Muppets
Ernie and Bert: Ernie gets Bert to participate in a rhyming game, but ends the game just as Bert is starting to enjoy it.
(EKA: Episode 0798)

Cartoon
A dog-shaped television
Animation inspired by Keith Haring
(EKA: Episode 3045)

Song
"Family Song" - a rewritten version of "Brothers Song"
(EKA: Episode 3423)

Animation
Space frogs count to 10.
(EKA: Episode 3109)

Muppets
Elmo looks for the butterfly, not knowing it's landed on his head.
Part 6
(First: Episode 3658)




SCENE 4
Natasha's horns have fully grown in, which means it's time for the party! The party monsters arrive to sing the "Monster Baby Horns Coming Out Party Song." Soon, Natasha's horns begin to wobble - they're about to fall out!

Cartoon
Lillian is proud because she climbed a mountain all by herself.
Artist: Craig Bartlett
(First: Episode 2749)

Film
Feet wearing all different types of shoes dance.
(EKA: Episode 2616)

Muppets
Mr. Johnson comes to Grover's photo studio to have his portrait taken. However, Grover photographs his foot and hand instead, and has to be reminded to capture the face.
(EKA: Episode 3232)

Cartoon
"A Number 10 from Tennessee"
Artist: Gene Barretta
(First: Episode 3526)

Film
Three girls do a "One Potato" rhyme.
(EKA: Episode 3271)

Cartoon
The Bellhop must take 10 terriers for a walk. (new sound effects added)
(EKA: Episode 2624)

Film
Stefan goes to the doctor and gets a checkup.
(EKA: Episode 3527)

Cartoon
Three scribbles exercise.
Artist: Fred Garbers
(EKA: Episode 2482)

Muppets
Right when Elmo gives up chasing the butterfly, it gives him a kiss, which makes Elmo want to give it a hug.
Part 7
(First: Episode 3658)




SCENE 5
Humprhey, Ingrid, Gabi and Big Bird encourage Natasha to lose her horns by wiggling her head. Her horns fall off, which means it's time for the Monster Baby Horns Falling Out Party!

COMING SOON
Coming soon on Sesame Street: Elmo dreams that there are two Elmos.