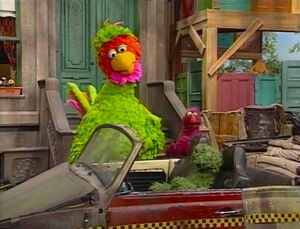 Big Bird and Rosita anxiously await the arrival of Abelardo, Big Bird's cousin from Mexico, who's being picked up at the airport by Maria and Luis. Rosita helps him with some Spanish he can speak, including "manzana" (apple). Meanwhile, Oscar arrives back from the airport with Abelardo (having gotten a call ahead of time from his friend Pancho) and is greeted by Telly. Oscar has also taught Abelardo an English word: "Scram". Telly brings Abelardo to Big Bird's nest, but finds he's not around.
Later, Big Bird and Rosita catch up with Maria and Luis, who explain they couldn't find Abelardo at the airport. Luis theorizes Abelardo missed the plane and goes to call La Abuela to inspect. While the two kids go the bus stop to ask the bus driver, Oscar reveals to Maria he picked up Abelardo.
Telly and Abelardo question Ruthie, who suggest they look in the park, since Big Bird loves going there. Big Bird and Rosita also talk to Ruthie, who turns them the same direction. However, after looking all over the park, neither of them can find each other. They begin singing a song to themselves ("My Cousin, My Friend"), not noticing they're on the opposite side of a wall between them. They then notice each other and celebrate by having some birdseed milkshakes.
Segments
See also