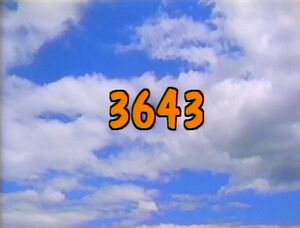 Picture
Segment
Description




SCENE 1
Gina introduces today's members of day care - Lexine, Nicole, Frazzle and Natasha, who is taking a nap. She puts out their snacks and everyone sings about Frazzle's snack of choice - "Croissant!"

SCENE 2
The kids start painting, but Frazzle wants to do something else. Natasha wakes up and Frazzle wants to play with her. He tries hugging her, but squeezes her too tight. He hides under his blanket when he sees he's hurt Natasha's feelings, but they coax him out and Gina inspires him to find a different activity the two monsters can do.

Song
John Pizzarelli sings about feeling "happy and proud" on your birthday.
(EKA: Episode 3421)

Animation
Colored tools build a house out of colored rectangles, squares and triangles.
(EKA: Episode 3323)

SCENE 3
Frazzle brings out some blocks the two can play with. He makes an air traffic control tower, but when it's Natasha's turn, she knocks over Frazzle's blocks. The two argue until Gina breaks it up, suggesting Frazzle needs to find something else they can do. He hears it's lunchtime, giving him another idea.

Cartoon
"From Your Head"
Artist: Sally Cruikshank
(EKA: Episode 3474)




SCENE 4
Frazzle prepares a plate of spaghetti and meatballs for Natasha's lunch. Gina sets it aside and explains to Frazzle that babies can't eat such hot, solid food. They see Natasha has instead made a mess of herself with the spaghetti and Frazzle hides under his blanket again.

Song
Kevin Clash sings "The Pasta Song."
(First: Episode 3137)

SCENE 5
Natasha gets cleaned up and Gina tries to convince Frazzle to come out, assuring him they can find a good game to play. Natasha gets an idea and starts playing peek-a-boo, which they all enjoy. Gina announces the sponsors.

COMING SOON
Coming Soon on Sesame Street: Telly poses in disguise as "Mr. Wallace."