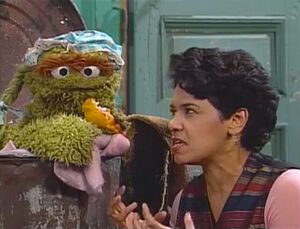 This episode guide has been compiled from incomplete video material.
Picture
Segment
Description




SCENE 1
Oscar attempts to separate Irvine from her blanket; he wishes to put it through a mud wash to make it even dirtier, but Irvine refuses to give it up. When he gives up, Maria (having been through the situation before with Gabi) offers to help. Her solution is to get Irvine to exchange her blanket for her squeeze-toy alligator. She keeps both instead.

SCENE 2
Oscar attempts to trick Irvine into dropping the blanket, but that also fails. Maria presses onward and talks Irvine into getting it washed. Irvine now wants to wash her blanket, and even gets to put it in herself! Maria is proud of her idea, until she gets a face full of mud from inside the can.

SCENE 3
Irvine now cries since she misses her blanket, and Maria notices how upset she sounds. Oscar puts on a trashy videotape to keep her mind off it...

Film
"Box City Recycling Rap"
Kids sing a rap song about recycling. They build a city out of boxes and cartons.
(EKA: Episode 2855)

SCENE 3 cont'd
Irvine is in a much better mood after the video, scatting the tune, but Maria accidentally mentions her blanket, so she starts bawling again. Oscar tells Maria to put in another trashy video...

Song
"Every Bit of Litter Hurts"
(EKA: Episode 2759)

SCENE 4
Irvine is still bawling, and doesn't want to watch any more trashy tapes. Maria returns from the library with a book - Grouchy Baby's Favorite Things, a picture book of Grouchy items to take Irvine's mind off her blanket. Maria hesitates to read the last page, as it is about Grouchy Baby's blanket. When they accidentally blurt it out, Irvine starts crying again, so Oscar goes to check on her blanket.

SCENE 5
Oscar returns with Irvine's blanket, which she immediately grabs and cuddles. He then tells Maria to scram before she upsets Irvine any further. She announces the sponsors before she leaves.

Known missing segments

Picture
Segment
Description

Muppets
The Sublime Miss M performs "You Gotta Have M."
(EKA: Episode 2837)
Ad blocker interference detected!
Wikia is a free-to-use site that makes money from advertising. We have a modified experience for viewers using ad blockers

Wikia is not accessible if you've made further modifications. Remove the custom ad blocker rule(s) and the page will load as expected.