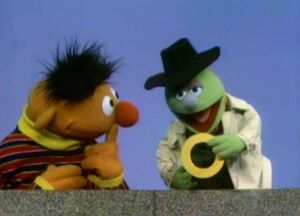 This episode guide has been compiled from incomplete video material.
Picture
Segment
Description

SCENE 1

Muppets

Fred the Wonder Horse bets Marshal Grover that he can't count backwards from ten. Grover tries standing with his back to him and counting up to ten. Since he can't do it, Grover has to let Fred ride on his back.
(EKA: Episode 3158)

Cartoon

Geronimo 10-0 (parachute under haystack)
(EKA: Episode 2414)

SCENE 2

As Oscar waits for Maria to "fix" his toaster, Gabi writes a story for the Prince and Pig. In the story, the two visit Numberland and discover the number 7 is missing when counting to 10. Gabi runs off to her piano lesson, leaving the story on a cliffhanger. The Prince and Pig go off to find another author.

Cartoon

Mi kat iz ... gone
(EKA: Episode 2059)

Cartoon

Shoes dance to a square dance tune.
(EKA: Episode 3450)

Muppets

Big Bird and Zoe play a "same and different" game.

Cartoon

A man wants a hat, but the hat shop owner's hats are all the same - except for a ten-gallon hat, which complements the customer's horseback riding nicely.
(EKA: Episode 1011)

Film

A karate team punches out the alphabet.
(EKA: Episode 3447)

Muppets / Celebrity

All the kids are too busy to enjoy looking at Telly's triangle with him. He runs into John Goodman, who happens to be a hardcore triangle lover himself.
(First: Episode 3202)

Song

"I'm in Great Shape": Kids dance with triangles, circles and squares.
(EKA: Episode 3300)

Cartoon

Lightning bugs make shapes.
Artist: Fred Garbers
(EKA: Episode 3174)

Animation

Planting Letters: O
(First: Episode 3010)

Cartoon

A woman sings the "O" sound in a brief opera.
(EKA: Episode 3323)

Muppets

"Would You Like to Buy an O?"
(EKA: Episode 0751)

Cartoon

OOOH DANNY! (Milly & Molly hang picture)
(EKA: Episode 2107)

SCENE 3

The Price and Pig ask Oscar to help write their story, but he declines. They then ask Elmo, who doesn't know how to write, but he dictates the story to Mr. Handford. In the next part of the story, the Prince and Pig meet the two-headed Elmford, who likes to find things and decides to stay put and look. Afterward, Elmo is called to help his mommy and Mr. Handford returns to work, leaving the duo without an author once more.

Cartoon

Musicians in a painting learn to cooperate to play music.
(EKA: Episode 3460)

Film

D.J. goes to the doctor, gets weighed and measured, and gets a shot.
(EKA: Episode 3595)

Cartoon

"Wash Your Hands Before You Eat" (new sound effects added)
Artist: Bruce Cayard
(EKA: Episode 2375)

Insert

Wanda the Word Fairy demonstrates the word TELEPHONE, but is unable to remove the word from the telephone booths. (ending edited)
(EKA: Episode 2782)

Cartoon

Figures dance around a telephone as it rings.
Artist: Keith Haring
(EKA: Episode 3058)

Film

A zydeco band plays "Allons a Lafayette" while people dance.
(EKA: Episode 2595)

SCENE 4

Oscar refuses to help with a nice story, until Mr. Handford explains the story can go in whatever direction the writer wants. Oscar changes his mind and begins writing his chapter, where the Prince and Pig meet a Grouch, who has the 7 behind his back. To retrieve it, they must pass a Grouch test.

Film

Milo Counting: 7
(EKA: Episode 3595)

Cartoon

Pinball Number Count #7
Artist: Jeff Hale
(First: Episode 0989)

Song

"Some Things Are Little, Some Things Are Big"
(EKA: Episode 3559)

Cartoon

Big / bigger / biggest (bikes) (new music added)
(EKA: Episode 2313)

Muppets

Sesame Street News Flash
Old MacDonald opens a health resort for his animals.
(EKA: Episode 2898)

Cartoon

Two hippie kids wonder how to make their droopy plant grow.
(EKA: Episode 1858)

SCENE 5

As the story continues, the Prince and Pig pass the Grouch test by wearing smelly gym socks on their noses, rolling in the mud and yelling "Wubba wubba!" They're able to count all the way to 10, thus ending their story. Oscar hopes they hated the story, but they love it; they want him to write all their stories from now on! Mr. Handford announces the sponsors.

COMING SOON

Coming Soon on Sesame Street: Big Bird and friends agree to take turns on the see-saw with Slimey, but Big Bird launches him to the sky!